News
08/09/2009 11:06 AM
Article By:
9 August 2009
THIS WEEK IN THE CAPE LEAGUE
2009
PAT SORENTI
MOST VALUABLE PLAYER AWARD
Bourne Braves Kyle Roller earns
Most Valuable Player for 2009
BOURNE, Mass.—Kyle Roller (East Carolina) was named the MVP of the Cape Cod Baseball League on Saturday in Bourne. Roller was second to batting champion Todd Cunningham (Jacksonville State) in batting average, which was no failure with Cunningham hitting .378 for the year.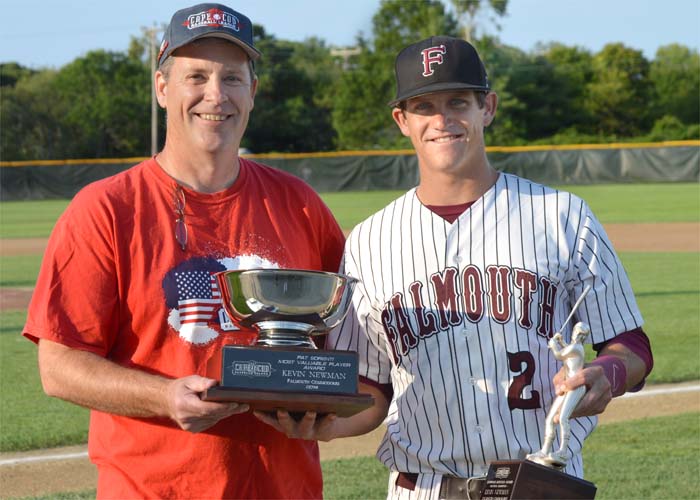 Cape League MVP, Kyle Roller with Bourne president Tom Fink and Bourne General Manager Mike Carrier
SportsPix 2009
Outside of the batting title, Roller led almost every statistical category. He hit 10 home runs, his next competitor only amassing eight. He had 33 RBI, three more than anyone else. He piled up 13 doubles, which contributed significantly to his unthinkable .644 slugging percentage. He led the league with 24 extra base hits and, surprisingly, 33 runs scored.

His prowess at the plate is not simply quantified in his own statistics. Roller changes the approach opponents take when facing the Braves. They see more left-handed pitching than any other team because teams know that they need to attempt to neutralize Roller. His teammates, such as Rob Segedin (Tulane) and Stefen Romero (Oregon State) see more quality pitches because of his presence in the lineup.

Roller was drafted by the Oakland A's this summer but has remained unsigned thus far and continued the drive for a championship with the Bourne Braves. As the Braves play into August, Roller continues to scare pitchers. He drove in Bourne's first run against Orleans in their first playoff game, a night that appeared to hold no hope of offense for the Braves.

"Winning the award was nice, but winning the game was more important," he said after the Braves most recent dramatic comeback. "One out in the ninth and you come back and score a couple of runs to come back, that's what baseball's all about."

The young man from East Carolina said he wasn't even aware that the league awarded an MVP until he received it. "It was a huge honor," he said after the presentation. "You come here, where the best players in the country come to play baseball every summer. To be named the MVP of that group is really amazing."

Among past winners of the Pat Sorenti MVP Award are Tampa Bay Rays third baseman Evan Longoria, (Chatham '05) his teammate and Hyde Park native Carlos Peña, (Wareham '97) and Boston Red Sox catcher Jason Varitek (Hyannis '93).

Jim Chandley can be reached at [email protected]

Interns: Chris Blake, James Chandley, Ashley Crosby, Phil Garceau, Michael Campbell, Katy Ann Fitzpatrick