News
08/18/2009 11:21 AM
Article By:
18 August 2009
THIS WEEK IN THE CAPE LEAGUE
2009
RUSS FORD
OUTSTANDING RELIEF PITCHER AWARD
Y-D Red Sox Closer Tyler Burgoon
named as League's Top Relief Pitcher
S. YARMOUTH, Mass.—Tyler Burgoon (Michigan) of the Y-D Red Sox earned himself the Russ Ford Award for Outstanding Relief pitcher with his hard work on the mound this season. The 5-10 closer struck out 34 batters in 21.1 innings pitched.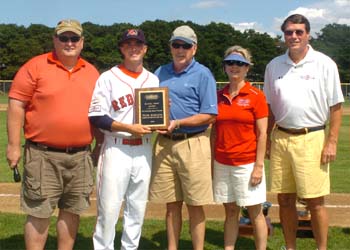 Commissioner Paul Galop, Senior Vice President Jim Higgins, President Judy Scarafile and Vice President Peter Ford were part of the pregame ceremony to recognize
Tyler Burgoon as the Outstanding Relief Pitcher
SportsPix 2009
"It was a good feeling knowing your goal's being accomplished," said Burgoon, who held himself to high standards coming to the Cape this summer. "It's one of the goals I set for myself before I came and I had the team and coaches to actually get it done."

Burgoon led the league in saves, with 12 over the course of the regular season—two more than Chatham's Russell Brewer (Vanderbilt), who won the award last year. His 1.69 ERA was a respectable number in a pitching-dominant league, and his attitude helped propel him beyond the statistics.

"I never try to get too comfortable on the mound," Burgoon said of facing some of the country's best collegiate hitters. "You never want to sit back and relax and think that you can just do whatever you want to the batters. It's better if you always kind of pitch with a chip on your shoulder, and I've tried to do that all year."

"Every day is different hitter that this spring absolutely dominated his league and other huge teams throughout the country," Burgoon continued. "It's definitely a test to the work that you've put in throughout the year."

As a freshman at the University of Michigan, Burgoon struck out 29 players, and allowed only 6 of 19 inherited runners to score. He was utilized as a starter, reliever, and closer. His fastball rests at about 92-93 MPH, and the slider that showed potential while at Michigan has blossomed here on the Cape this summer.

"When I first got here, it was all of a sudden a lot better than it was," said Burgoon. "I don't know where it came from. It just showed up—it's definitely helped having that."

"I definitely learned a lot since being here—understanding the whole mental side of the game, understanding batters and situations and things like that, like what to throw and where to miss."

The Russ Ford Award was instituted in 1991 and has since been awarded to pitchers such as Ryan Speier (2001, Bourne, Colorado Rockies) and Shaun Marcum (2002, Harwich, Toronto Blue Jays).

Ashley Crosby can be reached at Crosby@capecodbaseball.org

Interns: Chris Blake, James Chandley, Ashley Crosby, Phil Garceau, Michael Campbell, Katy Ann Fitzpatrick