News
08/23/2009 11:23 AM
Article By:
23 August 2009
THIS WEEK IN THE CAPE LEAGUE
2009
CURLY CLEMENT
UMPIRE AWARD
John Leeds Selected for 2009
Curly Clement Umpire Award
In Cape Cod Baseball League
After officiating for 30 years at various levels of baseball, veteran umpire John Leeds has received the 6th annual Curly Clement Award, presented for officiating excellence and contributions over the years to baseball umpiring in the Cape Cod Baseball League.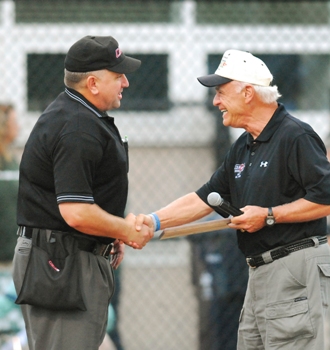 John Leeds congratulated by Umpire in Chief Sol Yas
Photo by Mike Valeri / Standard Times/ 2009
The Clement Award was presented to Leeds during the last week of the regular-season game by Paul Galop, CCBL Commissioner, Sol Yas, CCBL deputy commissioner and umpire-in-chief, and Nick Zibelli, president of the CBUAO.

During this past summer, Leeds umpired in over 20 Cape League games, including Game 1 of the Cape League Championship Series at Bourne, which was called an official game in the sixth inning because of fog.

"I was shocked, honored and grateful to have been selected and I want to thank everyone involved in the process," said Leeds. "It is a privilege to have my name next to the legendary Curly Clement."

Leeds is a resident of Tiverton, R.I., and serves as a special education teacher at Tiverton High School. He played intercollegiate baseball at Old Dominion University and is past president of the Rhode Island High School Umpires Association and the College Baseball Umpires Association – New England.

"Although you won't find many umpires on coaches' Christmas lists, John (Leeds) has been endorsed by several Cape League coaches for his work," said Yas. "He joins a select group of umpires such as Walter Bentson, Peter Hall, Jim McNally, Tim Carey and Harry Greer as recipients of the Clement Umpire of the Year."

Robert "Curly" Clement worked as a Cape League umpire for over four decades and was inducted into the CCBL Hall of Fame in 2002. He umpired 16 NCAA Division I Baseball Regionals, several ECAC Division I Baseball Championships and two NCAA College World Series during his career.

Affectionately known as the "Candy Man," for his propensity of passing out candy to players, coaches and field managers during on-field disputes, Clement's final Cape League appearance was working home plate at the 2000 CCBL All-Star Game. He passed away in 2006 after a long illness.

Previous Clement Award winners include Harry Greer (2008), Tim Carey (2007), Peter Hall (2006), Jim McNally (2005) and Walter Bentson (2004).

John W. Garner Jr., CCBL Director of Public Relations & Broadcasting ([email protected])

Interns: Chris Blake, James Chandley, Ashley Crosby, Phil Garceau, Michael Campbell, Katy Ann Fitzpatrick