News
10/04/2009 11:36 AM
Article By:
The Joys of Being a Host Mom
by Kim Wolfe, Cape League Secretary, Hyannis Mets Secretary
One of the many joys of hosting a player with the CCBL can happen a long time after they've had their summer in the sun and gone back to school. I had such an experience in early September when Teddy Dziuba married Merri Hellen at Babson (where they met) and I was invited to be a part of their special day.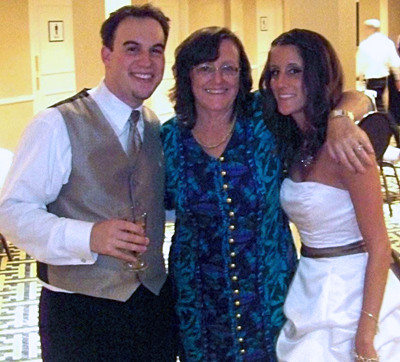 Teddy Dziuba, Kim Wolfe and Merri Hellen
Teddy was a temporary catcher for Hyannis in 2005. On the last day he could play as a temp without taking a full roster spot, his car was packed and everything was out of my house. One of the broadcasters, Bret Lasky, was his roommate and he and broadcast partner John Cabral had talked about what they would say if Teddy ever hit a homerun. John had settled on "Juba-lation" as a play on his name (the Dz at the beginning of his name is pronounced with a "J" sound). Hyannis had lost 10 games in a row and this was looking like it might be the 11th. Then Teddy hit a walk-off homerun, and John got to use the phrase - the crowd was in Jubalation! I looked at the GM after the game with the fans still very excited and told (begged?) him that he just couldn't send Teddy home now! It took a few days, but he got a roster spot and moved back into the house.

Over the rest of summer Bret & I got to know Teddy and Merri. What a joy they were to have around - I kept telling them they were keeping me young!

At the wedding everyone was introducing themselves to everyone else. Relatives and friends alike. The reaction I received when I told them I'd been Teddy's host mom was very heart warming.

If you've been thinking about hosting but are hesitating, rest assured, it is a good thing. Your summer son will always be a part of your life.

Brian Doyle, Web site Editor ([email protected])