News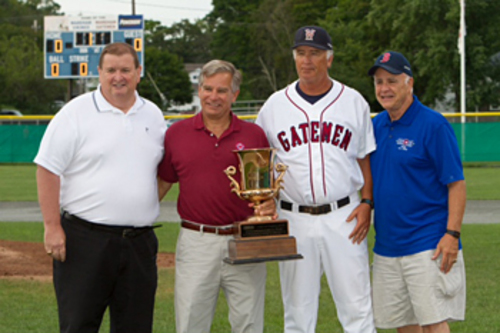 08/08/2012 8:35 PM
Article By:
WAREHAM, Mass. – For an unprecedented fourth time during the past nine years, the Wareham Gateman franchise has been named recipient of the coveted Cape Cod Baseball League Commissioner's Cup.
Starting with the inaugural year in 2004, Wareham shared this honor with Falmouth. Since then, Wareham earned this sole distinction in 2007, 2011 and now 2012.
"The Wareham Gatemen organization continues to exceed all expectations on and off the field involving professionalism and integrity," said CCBL Commissioner Paul Galop. "The proactive participation among their significant volunteer base, their cooperation in stepping up and doing whatever needs to get accomplished to satisfy franchise and league goals, player involvement in the community and their behavior on- and-off the field all made the Wareham Gatemen an overwhelming choice to receive the 2012 Commissioner's Cup."
The Cup winner is determined by Galop and his two deputy commissioners, Sol Yas of the East Division and Dick Sullivan of the West. Before rendering numerous factors are considered including whether required paperwork is filed in a timely fashion and how well games are conducted. The on-and-off-field conduct of players and coaches is another factor, as is maintaining professionalism in working with umpires.
"The members of the Gatemen organization are very honored to receive the award for doing something we enjoy, "said Wareham president/general manager Tom Gay.
The award was presented at Wareham's last regular season home game Tuesday night before a large crowd. Gay and other organization members were very surprised.

Cape League Commissioner's Cup Winners
2012 Wareham
2011 Wareham
2010 Bourne
2009 Yarmouth-Dennis
2008 Hyannis
2007 Wareham
2006 Cotuit
2005 Bourne
2004 Falmouth & Wareham

-ccbl-