News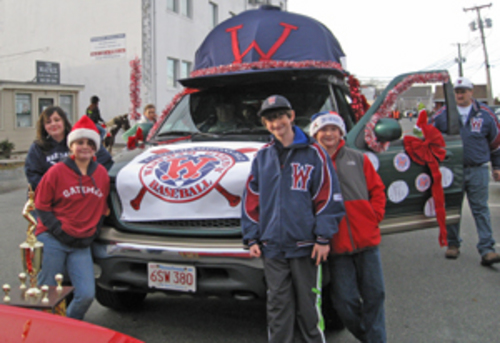 12/13/2012 9:09 PM
Article By: Sheri Gay
On Sunday, December 9th, Wareham Gatemen participated in this year's Wareham Village Association Christmas Parade along Main Street. The main theme of the parade was "Main Street Magic."
Gary Gatemen, along with some of this year's bat kids, handed out Media Guides and candy to
parade go'ers. The Gatemen were proud to display their trophies for the Wareham fans to enjoy.
An enormous Gatemen hat was featured on top of a truck decorated with lights, garland and
poinsettias. On the back of the truck was a sign thanking our sponsors for a 'magical season.'
It was an event the Gatemen members and bat kids enjoyed as they waved to fans and wished
them all a 'Merry Christmas."
Members who took part in the parade were: Jim and Linda McKiernan, Jeff and Paula Tufts, Pam and Al Blanchard, Tom Crane, Tom and Sheri Gay, Lee Ann Bruno and T.J. Croken as Gary Gatemen. Bat kids presents were: Carla and Jessica Tufts, and Raymond and Anthony Bruno.