News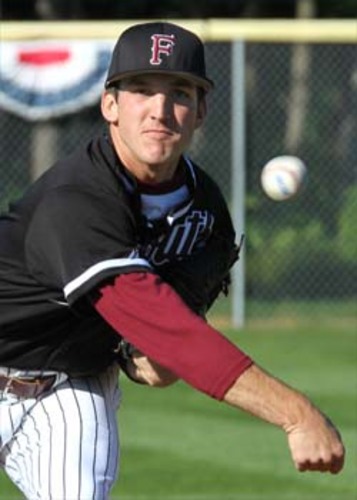 06/19/2013 5:49 PM
Article By:
A weekly list of the top six performers of the 2013 season:
With the first week of the season under our belts, a group of players has jumped out to a hot start and can be considered the first candidates for the end of the year Most Valuable Player honors. Lead by two top performers from the 2012 season, these players can only hope their impressive numbers will continue through the summer.
Robert Pehl (Washington)
Infielder, Yarmouth-Dennis Red Sox
.292 BA, 3 R, 2 RBI, 0 HR, 1 SB
After an All-Star 2012 season, Pehl is back in red and blue for Y-D this summer. While his numbers don't exactly jump off the page so far, they're strong enough to indicate he has the potential for a repeat performance. He batted .329 last year, leading both the team and the division in RBIs. He finished off the season with a bang, leading everyone in the playoffs in home runs and slugging percentage as the Sox marched to an Eastern Division championship. If Pehl can match or exceed those accomplishments this summer, he would have the edge at MVP.
Craig Schlitter (Bryant)
Pitcher, Falmouth Commodores
5 IP, 0-1, 1.80 ERA, 4 K, .800 WHIP
Like Pehl, Schlitter also had a strong 2012 summer on the Cape. He posted a 2.72 ERA in 43 innings and went 5-2 in his seven starts. Schlitter also fans his fair share of batters, striking out 41 last season. His pitching trends were replicated in his first start of the year, in which he gave up only one run in a short outing, but a lack of run support saddled him with the loss. If the Falmouth bats help him out more as the season continues, Schlitter has the potential to win quite a few games and potentially put up All-Star and MVP numbers.
Connor Castellano (Santa Fe College)
Infielder, Cotuit Kettleers
.462 BA, 4 R, 5 RBI, 1 HR, 4 SB
If the season were to end today, Castellano would be your league MVP. That's a pretty big deal for a temp player from a small school in Gainesville, Fla. Castellano is making the most of his chance with the Kettleers and has most likely locked up a roster spot with his hot start. He is first in the league in batting average and slugging percentage, tied for first in RBIs and home runs, and tied for second in stolen bases. No one has started the summer on more of a tear than the former Vanderbilt Commodore.
Andrew McGee (Monmouth)
Pitcher, Chatham Anglers
11 IP, 1-0, 0.00 ERA, 12 K, .55 WHIP
No one has been able to solve Andrew McGee thus far. Through two starts, he has allowed no runs on only five hits and one walk, striking out more batters than innings pitched. In both of his starts, the Anglers have walked away with shutout victories. McGee has been a big reason for Chatham's undefeated start. If he can continue to be the most dominant pitcher on the best team in the league, that's the definition of an MVP campaign.
Erick Fedde (UNLV)
Pitcher, Yarmouth-Dennis Red Sox
12.2 IP, 1-0, 0.71 ERA, 13 K, .75 WHIP
Like McGee, Fedde has been dominant through his first two starts of the season. The Opening Day starter for the Sox wowed the crowds at Red Wilson Field with eight strikeouts and only two hits allowed in 6 2/3 innings of work, landing Coca-Cola Pitcher of the Week honors. He has allowed just one run on six hits and three walks thus far. The league leader in innings pitched and strikeouts will be in line for some hardware if he can retain the lead in those categories for the remainder of the year, while maintaining that ridiculously low earned run average.
Jimmy Pickens (Michigan State)
Outfielder/Catcher, Chatham Anglers
.368 BA, 4 R, 4 RBI, 1 HR, 3 SB
The thunder to McGee's lightning, Pickens has been the offensive leader on the team to beat. He shares first place in home runs and second in RBIs, while batting a confident .368. While his numbers nearly mirror those of Connor Castellano, it is the Chatham offense that is the most potent thus far, possibly giving Pickens an edge in the long run. If he's consistent and his teammates are too, he has the ability to pull ahead and establish himself as the top offensive player in the league.