News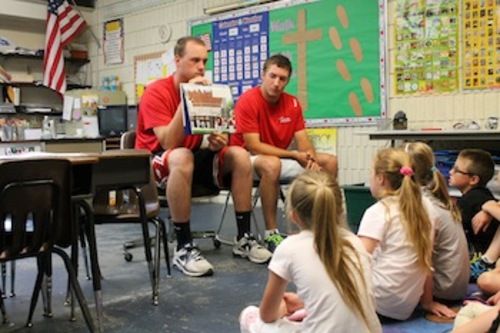 06/27/2013 4:22 PM
Article By:
The Cape Cod Baseball League's two youngest teams are celebrating 25th anniversaries this summer. The Bourne Braves and Brewster Whitecaps are both almost a quarter of the way through the 2013 season, and both have begun to celebrate the milestone.
Bourne always had a team in the league, but many teams were beginning to invite college athletes – instead of local players – to play on Cape Cod for the summer. Area softball teams, made up of residential players, generally won the turf battle. At one time, with three teams in the area, Bourne was struggling to survive.
"We needed a team in the league to balance it off," said Admiral John Alymer, founder of the Bourne Braves. "We had lost a couple of teams, and a lot of teams had to deal with open dates in the calendar, which is not that fun. We wanted to have an even number of teams so everyone would be playing every night."
The Bourne Braves franchise was established in 1987 and first played in the Cape League as part of the then newly formed Western Division. The Brewster Whitecaps also joined the league that year and joined the Eastern Division. Prior to 1988, Bourne's Cape League team was known as the Canalmen.
Massachusetts Maritime Academy helped house players for Bourne and also supplied field facilities. "They were fantastic in getting the money raised and getting the team on the field and helping put a franchise together," Alymer said of mentor Lee Harrington and his team at MMA.
Alymer, who was inducted into the Cape League Hall of Fame in 2012, said Bourne had an easier time putting together a team than Brewster. "It was easy for Bourne because they had a record," he said. "For Bourne it was more of a cash deal, they had to raise the money."
In 1987, the Braves made out a check for $7,235 to the Cape Cod Baseball League for entry into the league. The team's budget has grown from $21,000 in its first season to more than $150,000 today.
Part of that budget goes to maintaining the Braves' home at Doran Park. Bourne field manager Harvey Shapiro says he actually preferred the setting of Bourne's former home (Coady Field), but added that the field itself would constantly blow dust in your face if it wasn't watered sufficiently.
Shapiro has come to appreciate Doran Park. "I think we have as nice a facility as anybody in the league," he said. "It plays maybe as good as any facility, and our lights are second to none."
Alymer is also pleased with how far Bourne has come. "I'm delighted, this is a great field," he said. "It's a good viewing field and it's a good playing field." He says he's thrilled about some of Bourne's more noteworthy alumni, including Kevin Youkilis, Mitch Moreland and J.P. Howell.
Many famous faces have spent time with Bourne over the years, but one of Shapiro's favorite teams took the field in 2009 and brought home the hardware. The Braves squad from that summer featured such players as Kyle Roller (East Carolina), who came in as a temporary player but won the MVP of the regular season and the playoffs. Hard-nosed Pierre LaPage (Connecticut), infielder Rob Segedin (Tulane) and pitchers Seth Maness (East Carolina) and Alex Wimmers (Ohio State) also donned Braves uniforms that summer. "They were special," Shapiro said of the championship team.
"I had an old friend that used to tell me that the regular season was more important because you won your division," Shapiro said. Up until about four years ago, only two teams from each division made it to the playoffs, making it that much more important to play well during the regular season. "When you won your division," Shapiro said, "that's quite an accomplishment, and I still think it is."
Bourne's field manager took the Braves to the finals in 2003 and 2005 but couldn't capture the Arnold Mycock Trophy. "We lost in '03 and '05 with very good teams that may have been just as good as '09."
For now, Shapiro is focused on 2013 and leading his 6-7 Bourne Braves to success. "I always say a good day on Cape Cod is to win a ballgame, go home and not have a phone call that there's a problem with a player and not get that call the next morning," he said. "That's all I'm trying to do is win a ballgame, win the next game. I don't try to have long-range plans. I always expect the unexpected."
The Braves' front office has also done a lot to concentrate on the team's presence off the field in its 25th season. "We've done a lot more with host families and potluck suppers that feed the team once a week," Braves President Nicole B. Norkevicius said.
And players are also getting involved in community service. Pitchers Hawtin Buchanan (Ole Miss) and David Speer (Columbia) took time earlier this month to read to children at St. Margaret Regional Elementary School in Buzzards Bay.
"All those kids come to our games so it's almost giving back to the community for supporting the team so much," Buchanan said, and Norkevicius agreed. "Those kids, you know, stand on the fence and are here to watch their favorite player all summer long," Norkevicius added.
Other Braves and their host parents volunteered at the Special Olympics' Torch Run. Nigel Nootbarr (Southern California), his host mom and some early temp players spent time with several of the participants.
"After the race we said congrats and hung out with them, had some pizza with them and had a good time," Nootbarr said of the event. "It can be really important and really special. Since we're so committed to baseball, it's nice to take time out of our day to support the community."
In return, many Braves fans and supporters are being invited to participate in more activities at Doran Park. "We've had a lot of new national anthem singers and recognize a lot of Little League teams to get fans and everyone here," Norkevicius said.
Bourne also will continue its popular baseball clinics throughout the summer. The one-week clinics, open to 5- to 12-year-olds, focus on hitting, defense and fundamentals, and many Braves players lend a hand. The franchise also will offer two specialized clinics for 12- to 15-year-olds.
"I think Bourne's a great organization, a strong organization with a small group of very dedicated people who put in hours and hours of time," Norkevicius said. "We have volunteers that might no longer be on the board but are still here every day and are an integral part just for their knowledge and the history of the team and the Cape League."
Shapiro echoed those sentiments about the organization he has been a part of for the past 11 years. "I think Bourne is in a much better place," he said. "I think our organization is good intelligent business-type people. We've got great facilities. We've got an outstanding board. They do a nice job and that makes my job easier."