News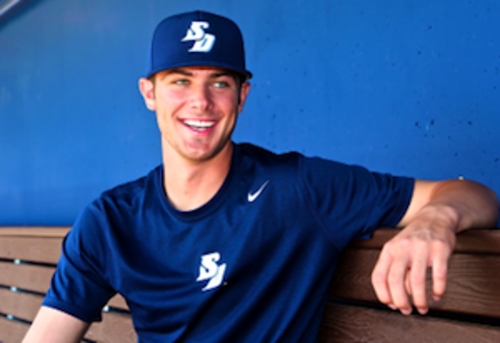 07/11/2013 5:44 AM
Article By: CCBL Public Relations Office
Former Chatham Angler Kris Bryant, the No. 2 pick in Major League Baseball's First-Year Player Draft last month, has signed a $6.7 million bonus contract with the Chicago Cubs. Multiple sources report that the two sides agreed to terms two days before a Friday, July 12 deadline for drafted players to sign with their clubs.
ESPN Chicago.com is reporting that the University of San Diego third baseman took and passed his physical Wednesday and that the deal would officially be announced Friday.
Bryant's reported bonus would be the highest for any player in this year's draft, surpassing the $6.35 million that No. 1 overall pick Mark Appel (Yarmouth-Dennis, 2011) received from the Houston Astros.
With Bryant locked up by the Cubs, only two of the 11 Cape Leaguers selected in the first round remain unsigned. They are No. 6 pick Colin Moran (Bourne, 2011-12) and No. 32 pick Aaron Judge (Brewster, 2012). The only other first-round pick who has yet to sign is high school pitcher Phil Bickford, selected by Toronto with the 10th pick.
Moran and Judge both have a year of college baseball eligibility remaining and this could be a factor in Judge's decision as he continues to negotiate with the New York Yankees. A strong 2014 season at Fresno State could greatly enhance Judge's position in next June's draft.
Moran, out of UNC, is expected to sign momentarily with the Miami Marlins.
The 21-year-old Bryant led all college players with 31 home runs this season. On the Cape in 2011, his 29 hits included three home runs and he collected 16 RBIs. He played for Team USA last summer.
Cubs general manager Jed Hoyer would not confirm Bryant's signing until Friday's official announcement, but he proposed a hypothetical. "We would need to get a feel for how rusty he is," Hoyer said of Bryant," whose college season ended in early June. "Once we get a feel for his conditioning, we'll figure out exactly what the right path is. Certainly, he'll start out at the very low (minor league) levels. We're hopeful he can move quickly through those."
This translates to Bryant beginning his professional career at short-A ball in Boise, Idaho, before moving on to Kane County. But he likely will report to the team's facility in Mesa, Ariz., to work out before heading for Boise.
On Saturday, July 6, Bryant received the prestigious Dick Howser Trophy in St Petersburg, Fla., as the nation's top college baseball player. The award, in its 27th year, is voted on by the National Collegiate Baseball Writers Association and goes to the player who "best represents courage, character, leadership and performance."
Other finalists for the Howser Trophy were Vanderbilt second baseman Tony Kemp (Cotuit, 2012) plus Moran, Appel and Vanderbilt right-hander Tyler Beede.
Bryant and Moran also are two of the three finalists for the prestigious Golden Spikes Award, presented annually to the nation's top amateur baseball player. The third finalist is Beede, who as a sophomore, was not eligible for the draft. Beede was on Cotuit's 2012 and 2013 preseason rosters, but played instead for Team USA.
The award will be presented during a live MLB Network telecast from Dodger Stadium on Friday, July 19.