News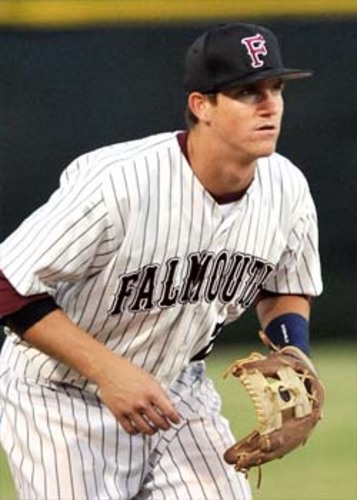 08/06/2013 2:42 PM
Article By:
FALMOUTH, Mass. – With the regular season in the books and the playoffs under way, it's time to recognize the Cape Cod Baseball League's outstanding performances of the season. This year's recipient of the Thurman Munson League Batting Championship is the Falmouth Commodores' Kevin Newman (Arizona).
Falmouth's hot-hitter ended the season with a league-best .375 batting average. Newman received the award Tuesday night at Guv Fuller Field in Falmouth following the Commodores' outing against Cotuit.
This prestigious batting championship was named after Thurman Munson, who led the Cape League in 1967 with a stellar .420 batting average. Chatham's powerhouse hitter went on to sign with the New York Yankees, eventually leading the Bronx Bombers to two World Series titles and three American League pennants.
Newman, who also was recognized as this week's Coca-Cola Player of the Week, truly shone when he went 6-for-6 with five runs scored last Friday against Bourne. The Commodores sweet-swinger was also one of seven Falmouth players representing the Western Division in the All-Star game.
"Kevin has worked hard all season improving his game," Falmouth general manager Eric Zmuda said. "He continues to hone his craft and apply it to a great play during the game. He takes that constant practice with him into a game situation where he has had great success for our team this summer."
Originally from Poway, Calif., Newman attends the University of Arizona. He finished the 2013 spring season with an impressive .336 batting average and 40 runs scored on 73 hits in 217 plate appearances for the Wildcats.