News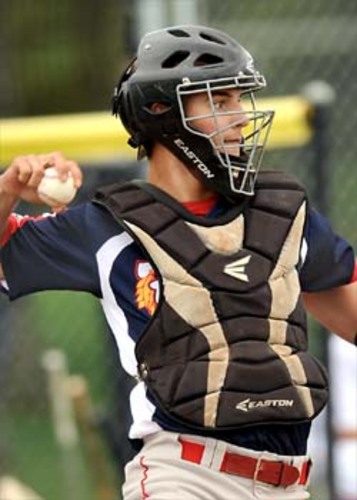 08/07/2013 6:59 PM
Article By:
Max Pentecost (Kennesaw State) at one time appeared to be a legitimate Triple Crown threat in the Cape Cod Baseball League this summer. Such an achievement is difficult and rarely seen, so even getting close shows how truly good a player is.
The Bourne Braves catcher was the heart and soul of the offense this season, and without him their summer could have been drastically different. There is nothing more valuable than that, and Pentecost was awarded the Pat Sorenti MVP title on Wednesday night.
The numbers speak for themselves with Pentecost. He finished the season in third place in the batting race with a .346 average, after leading for most of the second half of the season. He was in the top five in the league in RBIs, home runs, extra-base hits, slugging percentage and on-base percentage. Simply put, he was one of the top offensive producers in the league despite playing for the team with the fourth worst offense, and Pentecost was responsible for about a fifth of the Braves' runs all summer long.
There were many great all-around offensive threats in the Cape League this season. The Falmouth foursome of Rhys Hoskins (Sacramento State), Kevin Cron (TCU), Kevin Newman (Arizona),and Casey Gillaspie (Wichita State) all had great seasons, as did Orleans' Jordan Luplow (Fresno State) and Cotuit's Rhett Wiseman (Vanderbilt), but in the end Pentecost was the best choice.
Not only was he an important offensive player, but he was also a team leader and played a position not normally reserved for star players. It is rare to see a catcher that is so dangerous at the plate, as evidenced by the fact that the last catcher to be the Cape League MVP was former Boston Red Sox Jason Varitek 20 years ago.
Pentecost was highly regarded coming out of high school, and was picked up in the seventhround of the 2011 MLB Draft by the Texas Rangers. He chose instead to pursue his education at small Kennesaw State.
His Cape League MVP season will boost his draft stock yet again. If this sounds familiar, it should. 2012 MVP Phil Ervin (Harwich) attended Samford University, a small school comparable to Kennesaw State. But unlike Pentecost, he was relatively unknown before his MVP season on the Cape caught the eye of scouts across the country.
This spring, Ervin was drafted 27th overall by the Cincinnati Reds. History may repeat itself next year with Pentecost.