News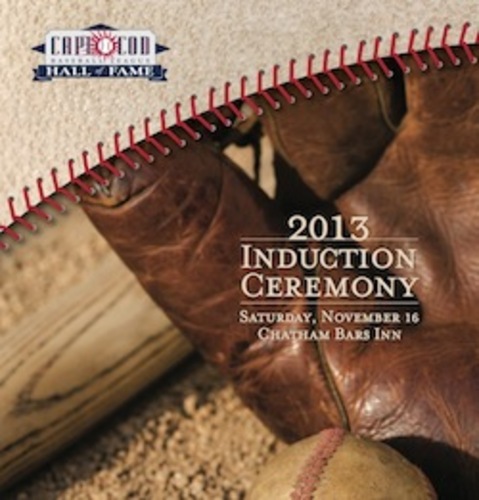 11/17/2013 11:08 AM
Article By:
"You are here because you were chosen to be here. Welcome back."
CHATHAM, Mass. - It's a Cape Cod Baseball League tradition to begin each year's Hall of Fame Induction Ceremony, held at the picturesque Chatham Bars Inn, with a short video of the inductees, with the strains of John Sebastian's "Welcome Back" greeting its greats.
Though the ceremony is a celebration of past players, coaches, volunteers and executives who had outstanding seasons or were integral to the organizations for which they worked, the weekend is always more a celebration of the relationships and memories made during their summers on the Cape.
This year's class, the 14th inducted into the Hall of Fame, was no different.
The eight newest members - Garrett Atkins (Cotuit, 1998, '99), Daniel Carte (Falmouth, '04), Merrill Doane (a longtime player, coach and administrator from Chatham), Ed Drucker (Harwich, '66), Mickey O'Connor (Chatham, '76), Jim Prete (Wareham '66-67, '70, Bourne '68), Ryan Speier ('01) and Matt Wieters (Orleans, '06) - were ushered in by 12 prior inductees, some of whom traveled from as far away as Texas to welcome them into the prestigious summer league's Hall of Fame.
"What an honor it is for me to be inducted into the Cape League Hall of Fame," said Wieters, a 2011 and 2012 American League All-Star and the current catcher for the Baltimore Orioles. Wieters was the winner of the Robert A. McNeece Pro Prospect Award after posting a .307 batting average with 39 hits during his season with Orleans.
"I'm a little nervous," Wieters said jokingly, "because even though Peter Gammons isn't here, I'm a little nervous he is going to report back on my performance to Buck Showalter, and you don't want to upset another member of the Hall of Fame!"
"I wanted to go to college because of the Cape League," Wieters added, echoing the sentiments of all eight members inducted.
For some of the new inductees, this weekend marked their first trip back to the Cape since their playing days, and it brought life and a few sweet tears back to the memories of their summers spent with their teams. The fields may look a little newer, some of the faces of volunteers and coaches may have changed, but the friendships and feelings of family thread through the years connecting members past and present.
"It is important because of the relationships made while they are here," said Falmouth Manager Jeff Trundy, who presented Carte for induction. Carte played for Trundy in 2004 and returned in 2011 as an assistant coach for the Commodores. "It is the people who make this special. Those who come here, and later think of it as the summer of their lives, understand this."
Carte spoke fondly of his Cape League experiences. "It was a great summer," Carte said. "As I was coming up here, I remembered coming over the Bourne Bridge and seeing the hedges and thinking of all the great players who played here. I thought it was what made the Cape so special, but it's not. It's the people, the teammates, the coaches, the interns, the volunteers, and I'm so honored and humbled to be here."
The depth of relationships began in the league extends even across town lines, as seen in the more than 50-year relationship - and rivalry - between HOF Class of 2010 member and League Vice President Peter Ford and new member Prete, who asked Ford to present him.
"You are the Cape league, and will always be a part of it," emcee Scott Wahle said. "And today it's official. Congratulations and welcome."
Among those welcoming the newest class were current Cape League managers Kelly Nicholson, Jeff Trundy, Mike Roberts, Harvey Shapiro, and John Schiffner; and past inductees Ed Baird (2003), Dick Bresciani (2000), Bob Butkus (2004), Ford (2010), Jim Hubbard (2006), Noel Kinski (2003), Arnold Mycock (2000), Jim Norris (2004), Pat Pacillo (2005), Art Quirk (2009), Judy Walden Scarafile (2003) and Richard "Dick" Sullivan (2002).