News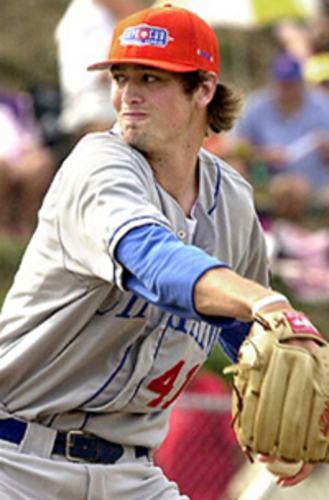 02/16/2014 7:35 PM
Article By: CCBL Public Relations Office
A healthier and wealthier Andrew Miller (Chatham, 2004/05) can now concentrate on helping the Boston Red Sox win another World Series.
Fully recovered from the foot injury he suffered last July, the Cape Cod Baseball League Hall of Famer (class of 2012) has agreed to a one-year contract for just over $1.9 million, slightly more than halfway between the $1.55 million the Red Sox had offered and the $2.15 million he had sought through arbitration.
Miller, who was paid $1,475,000 last season, will be eligible for free agency at the end of the 2014 season.
Through early July last year, Miller was performing brilliantly out of the Boston bullpen with a 1-2 record and a 2.64 ERA while striking out hitters at an astounding rate of 14.1 per nine innings. But he tore a ligament in his left foot while backing up a play and the injury cost him the opportunity to compete during the remainder of the regular season as well as in the American League divisional and championship series and the World Series, won by the Red Sox in six games over the St. Louis Cardinals.
A full-time reliever for the past two seasons, Miller has a 3.04 ERA and is averaging 12.5 strikeouts and 4.7 walks per nine innings in 71 innings spread over 90 games. He is entering his fourth season in the Red Sox organization after being acquired in a Dec. 12, 2010, trade with the Florida Marlins.
After winning both the Outstanding Pitcher and Outstanding Pro Prospect awards in 2005 at Chatham, where he was 6-0 with a 1.65 ERA, the University of North Carolina southpaw was Detroit's first-round pick (sixth overall) in the 2006 first-year player draft. He signed with the Tigers on Aug. 8, 2006, and made his major league debut 22 days later at the tender age of 21.
On Dec. 4, 2007, Miller was traded to the Marlins as part of a multi-player deal that sent Miguel Cabrera and Dontelle Willis to Detroit.
Throughout his time with the Tigers and the Marlins, the 6-foot-7, 210-pound Miller was used primarily as a starter, and he continued in that role in his first season with the Red Sox, going 6-3 with a 5.54 ERA in 17 games, 12 of them starts. Since then, he has been used only in relief and has become a dominant late-inning force out of the bullpen.
Resolving the Miller contract dispute extends the Red Sox streak to 13 straight years without requiring an arbitration hearing with any of their players.

-ccbl-