News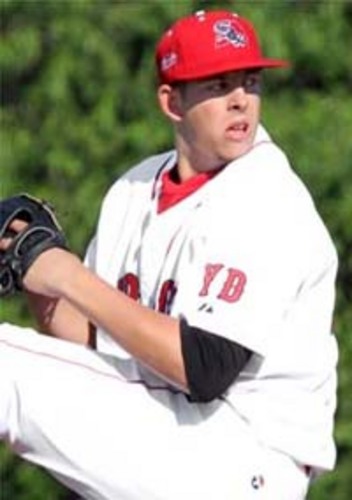 05/02/2014 6:01 AM
Article By:
Two members of the 2012 Yarmouth-Dennis Red Sox pitching staff are off to good starts in the minor leagues.
Through Sunday's games, 6-foot-5, 230-pound right-hander Aaron Blair had accumulated a minor-league best total of 43 strikeouts in 31 2/3 innings for South Bend in the Low-A Midwest League. The Arizona Diamondbacks' prospect fanned 12 on Sunday, mostly with his mid-90s fastball and a plus changeup. He also has noticeably improved his curve ball. The Marshall product was Y-D's best pitcher (6-0, 1.17 ERA, 44 strikeouts in 38 1/3 innings) and played a huge role in the Red Sox's march to the playoff finals against champion Wareham. He was 2-0 with a 0.75 ERA in the post-season. Blair was Arizona's first-round draft pick (36th overall) last June.
Another 2012 Red Sox hurler, Ben Lively, is overpowering California League (High-A) hitters as the ace of the Bakersfield staff. Lively fanned seven more on Sunday and boasts a 40-1 strikeouts-to-walks ratio. If he keeps it up, he should soon be hearing from the parent Cincinnati Reds about a promotion to Double-A Pensacola, which would be nice because his mom lives in the area. At Y-D, the 6-foot-4, 190-pound right-hander finished 0-2 with a 4.15 ERA in six games, all as a starter. He struck out 43 in 30 1/3 innings and walked 10. The Reds drafted the University of Central Florida star with their fourth-round pick last June.
Two-season Harwich Mariner Pierce Johnson (2010 and 2011) is pitching for the Chicago Cubs' Double-A affiliate Tennessee in the Southern League. Johnson's season was delayed a bit by a hamstring injury and his luck hasn't improved much now that he's healthy and pitching again. In his first start, he walked eight in four innings, but somehow managed to escape with just one run scoring. Only 26 of his 75 pitches were strikes. The ChiCubs still have high hopes for the 6-foot-3, 170-pound right-hander, their first-round pick in the 2012 draft and a $1.2 million bonus baby. Johnson, out of Missouri State University, excelled at Harwich in 2010, posting a 3-1 record and a 2.11 ERA in seven starts. He struck out 41 in 42 2/3 inning, while walking 12. In 2011, He was 1-1, 4.38 in limited duty with the Mariners in 2011, starting three games and working 12 1/3 innings.
Micah Johnson (Cotuit, 2011) is another Chicago prospect, but his future is with the White Sox, who are watching him rip Southern League pitching as a member of the Birmingham Barons. Johnson, who led all of minor league baseball with 84 stolen bases in 2012, has swiped just nine sacks so far, but he is excelling at the plate with a batting line of .363/.458/.529 through 27 games, The speedy second baseman is making a strong case for a promotion to Triple-A Charlotte. His six doubles, one triple, three home runs and 13 RBIs don't hurt his chances either. Johnson appeared in 35 games for the 2011 Kettleers, but never got untracked offensively. His line was .212/.253/.247 with a team-leading 20 strikeouts. But he was successful on five of seven steal attempts, showing signs of what was to come.
-ccbl-