News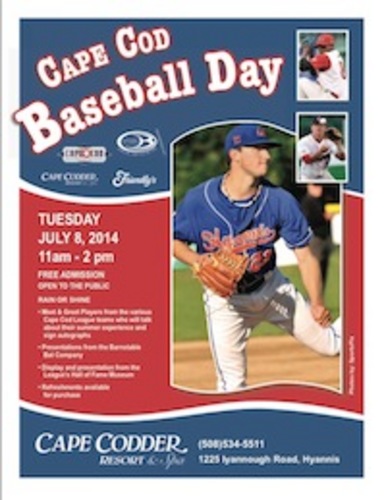 07/03/2014 4:44 PM
Article By:
The third annual Cape Cod Baseball Day will take place Tuesday, July 8 from 11 a.m. to 2 p.m.at the Cape Codder Resort & Spa in Hyannis and is sure to be just as fun-filled as in years past.
The event is free and includes player-fan interaction, an autograph session, food, music and more, and all 10 franchises will be represented. In addition, Friendly's ice cream will be served free of charge.
In addition, there will be a display and presentation from the Barnstable Bat Co., a locally based company that manufactures wooden and customized bats for players on all levels. Cape League Hall of Fame artifacts will be on display, and information about the Cape League's rich history will be presented.
The event will include refreshments for purchase and guest radio station entertainment. For more information, contact the Cape Codder Resort & Spa, 1225 Iyannough Road, Hyannis; 855-861-4370 or 508-771-3000.