News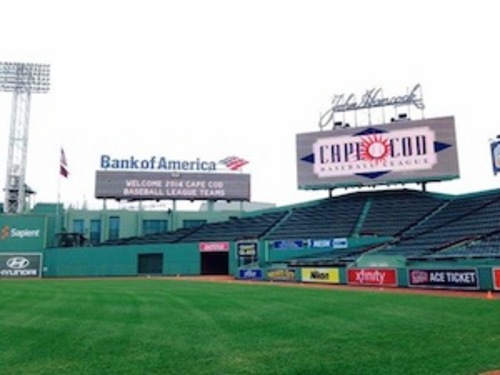 07/15/2014 3:17 PM
Article By:
BOSTON – The baseball gods looked favorably upon the Cape Cod Baseball League on Tuesday, as a dark, rainy forecast that had threatened to ruin plans instead turned out to be a hot, sunny day.
Shining just as brightly was this year's crop of Cape League players, who – along with coaches, scouts and fans –made the trek to Boston for the annual Fenway Park workout.
This is a special event for players, who take the field at one of the nation's most famous ballparks to showcase their talents for major league teams looking for their stars of the future. The Cape League turns out a large portion of MLB draftees each year, and the Fenway workout is a scout's dream: an entire day devoted to scoping out players all in one central location.
From 8 a.m. to 5 p.m., two teams at a time take the field for drills at the home of the Boston Red Sox. First is a 60-yard dash, which measures speed and in a way simulates the time it would take an individual to run two base paths. Next are fielding drills designed to put a player's field skills on display. Lastly, there is batting practice, which any player will tell you is the most memorable part of the day.
Each team is given a half-hour to allow its players to face practice pitches and test their contact and power as individuals face down the Green Monster.
More than anything, players enjoy the atmosphere and camaraderie of the event. It's a day of excitement and fun, in which players get time on a big-league field and the opportunity to bond with teammates and league opponents alike. For fans, the day enables them to spend time at the confines of storied Fenway Park.
This year's edition of the Fenway workout was especially entertaining, as those on hand were treated to sunshine as well as a display of power that had not been seen in previous years. The event continues to be a player, scout and fan favorite.