News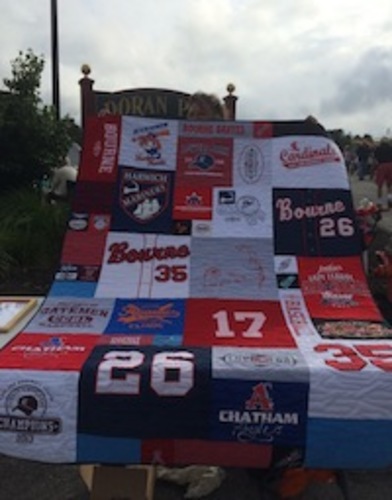 07/28/2014 6:14 PM
Article By:
After two years of Laura Hardon's son Tomas running the concession stand at Bourne Braves games, she thought of a great way to give back to the community.
Hardon, a quilt-maker by trade, donated a large Bourne-inspired handmade quilt at the Friendly's Cape Cod Baseball League All-Star game on Sunday. She has made a second one, which features shirts and jerseys from all 10 Cape League franchises, to be raffled off Saturday, Aug. 2 at Doran Park, home of the Braves. Proceeds will benefit the Cape League.
"The blankets took around 40 hours apiece to make and were something I wanted to donate to the Cape League that were unique," Hardon said.
Hadron lives in Arizona but spends summers on Cape Cod and is a frequent spectator at Cape League games. The quilt she made for Sunday's raffle featured Bourne Braves T-shirts and jerseys stitched together into one large quilt.
All told, 500 raffle tickets were available to be bought at a price of $1 for five tickets, and $5 for 20.
The lucky winner of the specially designed quilt was Elaine Brickman, who was ecstatic about her good fortune. "My husband is going to be thrilled," Brickman said.