News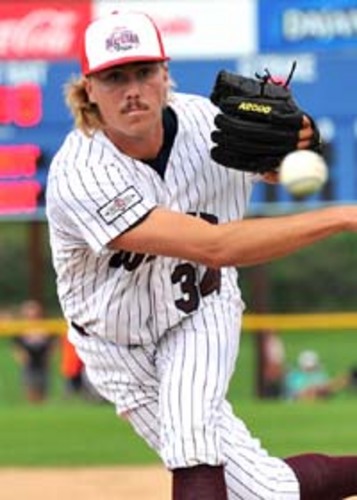 08/16/2014 5:37 PM
Article By:
Adam Whitt (Nevada Reno) and Phil Bickford (California St. Fullerton) were honored as the 2014 Cape Cod Baseball League Russ Ford most outstanding relief pitchers. The award is given each year to a pitcher who thrives under the pressure of pitching in the late innings of games and exhibits the ability to shut down opposing hitters when a game is on the line. This is the first year that the award has been given to multiple players.
Adam Whitt's staggering numbers on the season with the Cotuit Kettleers make him not only one of the league's best relief pitchers, but arguably one of the best pitchers all around. His 36 innings led the league for pitchers who did not appear in a starting role over the course of the season. Additionally, Whitt fanned nearly a batter per inning finishing with 34 strikeouts – second most among pitchers who did not start a game.
The impressive statistics do not stop there as Whitt led all qualifying pitchers in opponents' batting average against with an outstanding .154 mark to go along with a league-best earned run average, a sparkling 1.00. Helpful in accomplishing this feat was that he did not allow a single home run all year. His final tally of walks and hits per innings pitched came out to a spectacular 0.86.
While save opportunities were few and far between for the Kettleers this season, Adam led the team with four. Perhaps more notably, Whitt not only led Cotuit in wins but also finished tied for second most in the league with five. The five wins were the most for any pitcher without a start and were three more than the next closest reliever. Whitt was not saddled with a single loss on the season.
Whitt got off to a roaring start with the Kettleers early, tossing 15 scoreless innings in seven appearances before finally yielding his first run. He compiled a 3-0 record with one save and 14 strikeouts over that span. His most dominant outing of the season came at the end of that stretch on June 28 against Harwich, where he went 2 2/3 innings of one-hit scoreless baseball and struck out seven.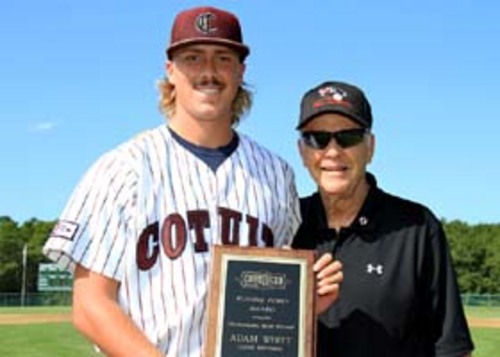 The dominant pitching did not end with the regular season as Whitt came on in relief just hours after receiving the award to pitch two scoreless innings against the Braves in Game 2 of the West semifinals. He allowed just one hit and struck out one in the appearance. In the decisive Game 3 of the semifinals - his final outing of the year - Whitt continued his dominance, going 2 1/3 innings without allowing a hit and striking out four to pick up his second save in as many days. In collecting the pair of multi-inning saves, Whitt was a pivotal factor in helping extend his team's 2014 campaign.
In two seasons with the Nevada Wolf Pack, Whitt has compiled a 3.73 ERA to go along with 75 strikeouts over 79 2/3 innings pitched. He has a misleading 6-9 record along with eight saves. Over that period he has held opponents to a meager .235 batting average.
Whitt was also a CCBL all-star this season, pitching one inning of relief and striking out a batter while allowing a pair of hits in the game. On being named to the West All-Star squad, Adam noted, "It was one of my goals coming out here, to make the All-Star team."
He had other aspirations as well. "It was a goal of mine to win the reliever of the year award and to win a championship with the Kettleers. We got two of those and now I'm trying to finish off the third one."
While it can be tough to maintain composure and focus in such high stress situations, Whitt said: "I just focus on mixing speeds and throwing strikes. That's the biggest thing especially when you get up in higher levels like this; you have to just keep throwing strikes and make them hit it."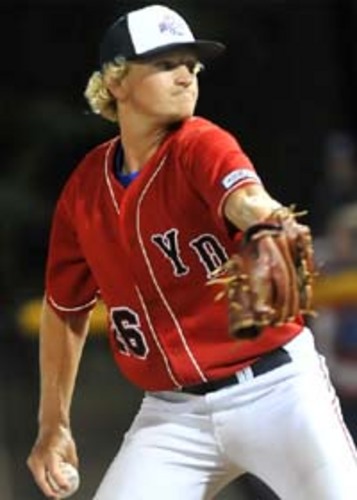 Phil Bickford reached this achievement through equally impressive regular season statistics. His league-leading eight saves on the season were two better than the second best. He appeared in 14 games and totaled 20 innings while striking out an incredible 33 opposing batters and compiling a 1-1 record. His strikeouts per nine innings ratio was a staggering 14.85. Allowing just five earned runs gave Bickford a solid 2.25 earned run average.
Yielding just 17 hits and walking only five batters left Bickford with a strong 1.10 walks and hits per innings pitched. Opposing hitters managed just a .224 batting average against Bickford and were only able to muster two extra base hits – both doubles. His outstanding control was evidenced by not allowing a single home run and not hitting a single batter.
Bickford also displayed his versatility as he opened the 2014 campaign as the regular season game one starter for the Red Sox. In that game he tossed three innings of scoreless baseball, striking out three and allowing three hits. He did not receive a decision in the game – his only start of the year.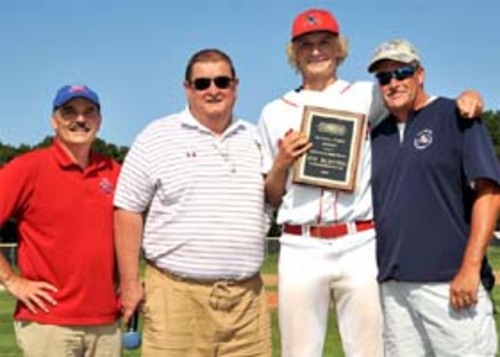 Incredibly, Bickford's five runs against came in just two of his 14 appearances. Over his other 12 games he did not allow a single run. His most impressive streak of the season came from June 29 through July 11 in which he appeared in five games and earned the save in each outing. Over that stretch, he went seven innings of shutout baseball and allowed just three hits while striking out 13 and walking none.
Like Whitt, Bickford's outstanding pitching continued through the postseason. Appearing in three games for Y-D, he tossed 7 1/3 innings without allowing a run. In that span he yielded six hits while striking out a terrific 10 opposing batters and walking none. He picked up the save in each appearance – all of which were series clinching games. In the East Division Finals against Harwich Bickford struck out six of the eight batters that he faced to shut the door. He came on for an impressive three shutout innings to close out the final game of the 2014 season and seal the championship for the Sox.
Bickford, an all star for the East squad, faced just one batter in the game between the East and the West. In fitting fashion, he fanned that one opponent.
In his freshman season at Cal St. Fullerton, Bickford was equally as dominant as he was this summer – albeit in a different role. Bickford appeared in 20 games for the Titans of which 10 were starts. He compiled a 6-3 record over 76 innings pitched while striking out 74 opposing batters and walking just 13. He finished his first season with a stingy 2.13 earned run average and held opponents to an outstanding .232 batting average.
On receiving the Russ Ford honors Bickford said: "It was a very humbling moment. I had absolutely no idea it was happening. It put a huge smile on my face."
Bickford was grateful for his opportunity in the CCBL this summer, adding: "It was fun that the coaches trusted me with the closer role. It just made me want to carry the positivity from Cape Cod."
There was no doubting his love for the game. "Pitching is a blast. I love it."