News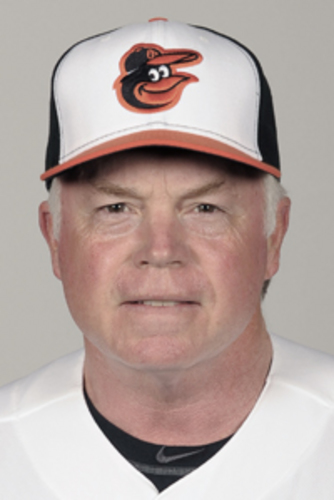 11/12/2014 8:11 AM
Article By: CCBL Public Relations Office
Cape Cod Baseball League Hall of Famer Buck Showalter (Hyannis, 1976; class of 2002) won his third American League Manager of the Year award Tuesday, receiving 25 of 30 first-place votes and 132 points in balloting conducted by the Baseball Writers Association of America. The Baltimore Orioles' skipper continued his pattern of winning the award every 10 years after victories with the New York Yankees in 1994 and the Texas Rangers in 2004.
"I won't be doing it 10 years from now. The players are getting tired of my act," he joked in an interview on MLB Network.
Los Angeles's Mike Scioscia finished second in the voting with four firsts and 61 points, Kansas City's Ned Yost finished third with 41 points and Seattle's Lloyd McClendon followed with 29 points.

The National League winner was Matt Williams of the Washington Nationals.

Showalter's Orioles rolled to a 96-66 record and their first American League East title since 1997. Voting took place before the postseason, in which Baltimore swept Detroit in the AL Division Series and then was swept by Kansas City in the AL Championship Series.

Until the ALCS, the Orioles had not lost four in a row since May and had not dropped consecutive home games since June 28-29.

Showalter and the Orioles had to overcome injuries to two key players, catcher Matt Wieters (Orleans, 2006) and third baseman Manny Machado, and they lost slugging first baseman Chris Davis when he failed a drug test and was suspended for 25 games that carried into the postseason.

Showalter is the third Orioles winner, joining Frank Robinson in 1989 and Davey Johnson in 1997.

"It's such a great reflection on our organization,'" Showalter said. "It's pretty humbling."

Showalter starred in 1976 for the Hyannis Mets (now Harbor Hawks). Known as Nat in those days, he won the batting title by hitting .434, breaking the league record of .420 shared by Chatham's Thurman Munson and Tom Weir. The award would later be re-named in Munson's honor after the Yankee catcher died when the plane he was piloting crashed in 1979.

Showalter also pounded out 62 hits to break Jim Norris's mark of 59, set seven years earlier with the Orleans Cardinals (now Firebirds). Listed on the Hyannis roster as a 5-foot-10, 185-pound outfielder/first baseman, Showalter was a consensus choice for Most Valuable Player honors and was named to both the midseason All-Star team and the postseason All-League squad.
He also is the first Cape League graduate to win a Manager of the Year award in either major league since Colorado Rockies skipper Jim Tracy (Chatham, 1976) won in the National League in 2009. Tracy shared left field duties with Showalter in the Cape League's 4-1 win over the Atlantic Collegiate Baseball League in the '76 All-Star Game at Yankee Stadium.

Showalter's fellow CCBL Hall of Fame member Eric Wedge (Y-D, 1988; class of 2011) was the last American League Manager of the Year winner from the Cape League, taking the prize as chief of the Cleveland Indians in 2007. Current New York Yankees manager Joe Girardi (Cotuit, 1984) won in 2006 with the NL's Florida Marlins.

-ccbl-