News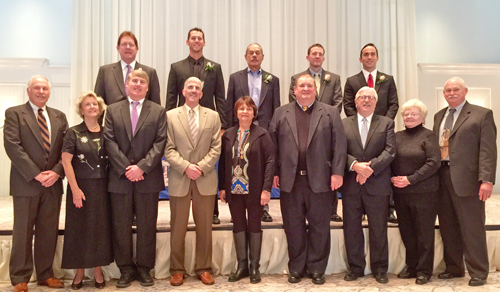 11/15/2014 9:25 PM
Article By:
CHATHAM, Mass. - The Cape Cod Baseball League welcomed its 15th class at the picturesque Chatham Bars Inn, Saturday, November 15th.
The festivities, set against a postcard-perfect day, were highlighted by U.S. Congressman Bill Keating's presentation of a Special Congressional Certificate of Recognition to each member of the 2014 class. Keating's recognition was the first of its kind for the storied league considered the premier venue for top college players in the country.
Scott Wahle, former news and sports reporter for WBZ-TV in Boston, served as master of ceremonies for the 14th time and guided the program flawlessly. As is his custom, Scott led the audience in singing of the National Anthem and then it was on to the inductees.

Batting first was 1968 alum Phil Corddry representing the Orleans Cardinals. His daughter, Alex, currently a sports reporter with Channel 7 in Boston, delivered an inspirational speech that highlighted "while diamonds are a girl's best friend, my Dad gave us Baseball Diamonds." Alex concluded that while her Dad was a CCBL Hall of Famer, he will "always be a Hall of Fame Dad!"
Following Corddry, was University of Tampa graduate Eric Beattie, who was presented by his dad, Randy. Fighting back tears, Beattie graciously accepted his honor and amused the crowd with a story of how ill-prepared he was for the weather that greeted him during his stay on the Cape during the summer of 2003. Beattie compiled the second lowest ERA in league history at 0.39, trailing only Hall of Famer Eric Milton at 0.21.
Errol Hicks graciously accepted the award presented to his dad, Donald Hicks, Sr. who passed away earlier this year before he was able to learn of his induction. A native of the Mashpee Wampanoag tribe and former captain of the Mashpee Fire Department, Hicks, Sr. was fondly remembered as a nonpareil pitcher who won all four games in the 1948 Cape League championship, including both ends of a double-header. As Errol said, "I know my Dad waited a long time for this moment and I'm sure he is up there playing a game right now!"
Harvey Shapiro, long time manager in the Cape League with Falmouth and recently the Bourne Braves, presented standout hurler Bob St. Pierre of University of Richmond. Once considered a middle of the rotation pitcher, this talented right-hander, playing on a team that included future Hall of Famer and California Angels standout, Darrin Erstad, St. Pierre compiled an impressive 9-1 record, winning Outstanding Pitcher of the Year award. Celebrating his sixth wedding anniversary Saturday, St. Pierre duly noted the role his wife has played in his life since his playing career ended and finished his speech saying, "the Cape League will always have special place in his heart."
Current major leaguer with the Oakland A's and former Hyannis Met's star, Sam Fuld, a native of Durham, NH was the day's last recipient. Presented by his former house mother, Allison McNaughton, Fuld acknowledged the community involvement that "makes the league so great." Fuld, who also played for Team USA during his college career, went on to say that his Cape League experience made him"feel like a professional" and prepared him for the rigors of playing every day as a professional ball player. Playing in the majors since 2007 with a variety of teams, Fuld complemented the Chatham Bars Inn on its wonderful venue and indicated he couldn't wait to come back.
Earlier in the program, long time and retired GM of the Y-D Red Sox, Jim Martin, won the prestigious Fred Ebbett Lifetime Achievement Award and current CCBL Director of Public Relations and Broadcasting, John W. Garner was awarded the Richard "Dick" Sullivan Executive of the Year Award.