News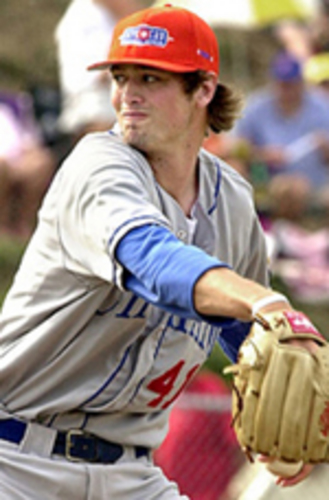 11/25/2014 9:37 PM
Article By: CCBL Public Relations Office
Cape Cod Baseball League Hall of Fame pitcher Andrew Miller (Chatham, 2004-05; class of 2012) has emerged as one of this off-season's hottest free agents. Miller reportedly is considering multiple three-year offers, making it increasingly likely that he will be able to negotiate a four-year deal which would give him the highest annual value ever for a reliever with no experience as a closer.

It has been reported that the left-hander's agent, Mark Rodgers, has been contacted by no fewer than 22 of Major League Baseball's 30 clubs.

His former team, the Boston Red Sox, and the Toronto Blue Jays are believed to have serious interest in Miller, who has indicated he wants a four-year deal after a dominant 2014 season split between Boston and Baltimnore. Jason Mastrodonato of MassLive.com has reported via Twitter that the Red Sox are "very serious" about bringing Miller back into the fold.

The St. Louis Cardinals had what they called "exploratory" talks with Miller last week.

The Chicago Cubs are one of the few teams that do not appear to be interested in Miller, preferring instead to stock their bullpen with less expensive talent. And the New York Post's Mike Puma tweeted that, while the New York Mets hope to add a left-handed reliever at baseball's upcoming winter meetings, there appears to be little likelihood that they will sign Miller.

A veteran of nine MLB seasons, Miller signed originally with the Detroit Tigers, who selected him with the sixth overall pick in the 2006 First-Year Player Draft. The 6-foot-7, 210-pound University of North Carolina product made his first professional appearance on Aug. 20, 2006, with the High-A Lakeland Tigers and 10 days later, on Aug. 30, he debuted in the majors against the New York Yankees.

On Dec. 5, 2007, Miller was one of six players sent to the Florida (now Miami) Marlins in the deal that brought Dontrelle Willis and Miguel Cabrera to the Tigers. The Red Sox acquired him from the Marlins on Nov. 12, 2010, in a straight-up trade for pitcher Dustin Richardson.

At UNC and Chatham and until the 2012 MLB season, Miller was primarily a starter, with varying degrees of success. But since the Red Sox decided to convert him to a reliever, the results have been spectacular. His ERA fell from 5.54 as a starter in 2011 to 3.35 in 53 appearances out of the bullpen in 2012. On July 6, 2013, Miller tore ligaments in his left foot and missed the remainder of the season, including the World Series. Nevertheless, he finished with a 2.64 ERA in 37 innings.

Miller's best work came this past season. He pitched in 50 games, getting little support from an offensively challenged Red Sox team, and fashioned a 2.34 ERA before being traded to Baltimore for minor league pitcher Eduardo Rodriguez on July 31.

On Sept. 16, when Baltimore clinched its first American League East title in 17 years, Miller faced two batters and struck them both out, bringing his ERA with the Orioles down to 1.04. During the O's 2014 ALDS sweep of the Detroit Tigers, Miller earned a hold in two of the victories as he pitched a total of 3 1/3 innings of no-hit, no-run baseball while striking out three Tigers.
Success is nothing new for Miller. At UNC, he was named a first team All-America by Collegiate Baseball, Baseball America, the National Collegiate Baseball Writers Association and Rivals.com. Baseball America also named him the College Summer Player of the Year and the No. 1 prospect in the Cape League. In 2006, he was a finalist for the Golden Spikes award, presented by USA Baseball to the nation's top amateur player. That award went to current San Francisco Giants pitcher Tim Lincecum (Harwich, 2005).
Miller's two seasons in the Cape League were nothing short of spectacular. He won eight games against no defeats, striking out 114 batters in 89 innings. His 2004 ERA was 2.03; in 2005, it was 1.65. His election to the CCBL Hall of Fame was a certainty once the mandatory five-year waiting period concluded.

His enshrinement came on Nov. 10, 2012, at the Chatham Bars Inn where he was presented for induction by former Chatham general manager Charlie Thoms, Miller's "host dad" for the summers of 2004 and 2005.

Thoms recalled teaching Miller and several of his A's teammates to play bocce on his lighted backyard court and how games continued well into the night.

Miller, who won the 2005 Robert A. McNeece award as the Cape League's Outstanding Pro Prospect and was co-winner of the B.F.C. Whitehouse Outstanding Pitcher award (with Tim Norton of Falmouth and Uconn), admitted that he was initially reluctant to come to the Cape, preferring to go home after the long collegiate season. But, he said, it wasn't long before he changed his mind: "These were two of the best summers of my life."
-ccbl-