News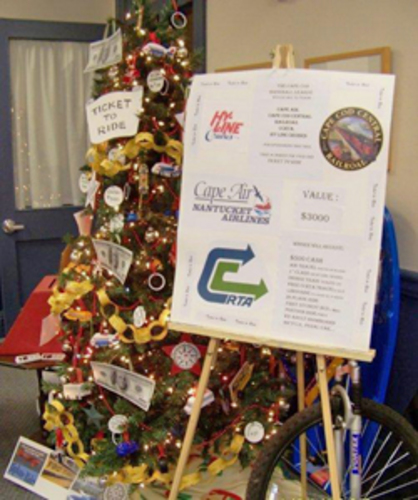 12/05/2011 11:28 AM
Article By:
HYANNIS – The 2011 Spectacle of Trees Opening Reception and Wreath Auction, held Thursday, Dec 1 at the JFK Hyannis Museum, was a sold out event and an opportunity for the Cape Cod Baseball League and 15 other non-profit organizations to show off their creative talents in both wreath and tree decorating for this now "must-see" event.
While each of the 16 participating non-profit agencies spent several hours procuring gifts and decorating their wreaths and trees, in the end, the event will financially benefit each of them as visitors to the Museum bid on the various trees with "Tree Bucks" in the hope of winning the tree of their choice. The money each tree generates in tree bucks goes to that organization.
At the reception, ticket holders got their first peek at the creativity on display throughout the JFK Hyannis Museum and Cape Cod Baseball League Hall of Fame, both located in the same building on Main Street.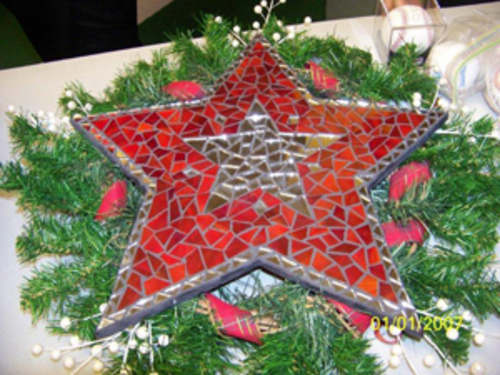 Each wreath had a theme of its own and the Cape Cod Baseball League's was "An All Star Celebration".
The large "star" mosaic made by Diane Troy was tied to the wreath with red ribbons which could be undone so the star could be used in decorating all year long. The wreath was accompanied by a mini tree also adorned with star ornaments- some a mini version of the wreath's mosaic work. Also include were 2 tickets to a Red Sox 2012 game and 5 baseballs autographed by some of the CCBL Hall of Famers including 2011 inductee Mike Lowell. Also on hand were baseballs autographed by current Boston Red Sox hurler Clay Buchholz and Red Sox legend Luis Tiant.
This "wreath" package had a value of well over $500 and brought a handsome winning bid from Dr Alan White of the Optimist Cafe in Yarmouthport.
All of the trees on display were covered and surrounded by gifts and gift certificates, including the CCBL tree with its theme being "A Ticket to Ride." The gifts under the tree and adorning its branches include tickets donated by Cape Cod Regional Transit Authority, Cape Cod Central Railroad, Hy-Line Cruises, Cape Air / Nantucket Airlines and First Student Transportation along with many other "rides."
The Spectacle of Trees continues through Saturday, December 10 with the winner of each tree being selected that evening.