News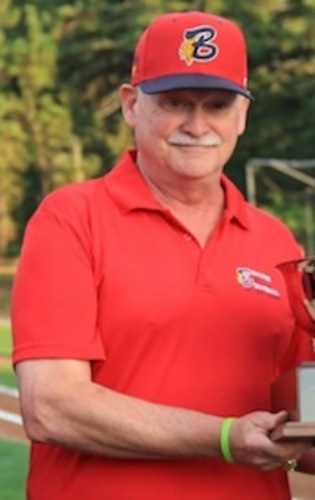 07/24/2015 4:50 PM
Article By:
The Bourne Braves honored general manager Chuck Sturtevant on Thursday night before the team squared off against the Falmouth Commodores in Cape League action at Doran Park. Sturtevant will be retiring at the end of this season after 29 years of service to the league.
He was chosen to throw out the first pitch before the game in front of friends, family, Cape League officials and members of the Braves organization, where he's been GM since 2012.
"Having half of my family and the league officials there … it made the night," Sturtevant said. "I couldn't have asked for anything more."
Sturtevant has been involved with the CCBL at many levels and has cultivated countless meaningful relationships everywhere he's went. He first became involved with the league when he held the general manager position for the Falmouth Commodores from 1989 to 2006.
President of the Commodores in 1987 and 1988, Sturtevant's first pitch was scheduled against the Commodores so both the Bourne and Falmouth organizations could celebrate his accomplishments.
Sturtevant was honored by the league in 2014 with the John Wylde General Manager of the Year Award for assembling a Braves squad that would compile the best record in the CCBL and win the President's Cup.
"First, I have to thank my family for all the years of support. They knew how much it meant to me," Sturtevant said. "…Bourne, Falmouth, the league, everyone have been tremendous to me."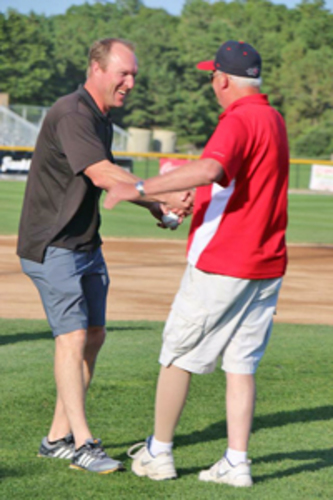 On hand for Thursday's festivities was Darin Erstad (Falmouth, 1993-94), the top player ever to suit up for Sturtevant on the Cape. Erstad, the 1994 Cape League MVP and one of Sturtevant's best friends, dropped everything to travel to Bourne so he could honor his general manager, mentor and friend.
Erstad went on to become a two-time MLB All-Star and a three-time Gold Glove Award winner after his two years as a Commodore. Now the head baseball coach at Nebraska, he credits Sturtevant with a lot of his development into the player he would become.
He consistently sends his players to play for Sturtevant each summer to receive the same tutelage he experienced.
"Having Chuck (in Falmouth), he couldn't be more excited to be at the field. People make for great experiences and the people out there like him are just tremendous in helping young players grow," Erstad said earlier this summer. "(Those relationships are) why it's the Cape and Chuck was a huge part of that."
It was a day that meant a lot to Sturtevant. But the day meant just as much to the Braves, the Commodores and the Cape League, all of which were just as happy to give back to the man who has given so much.
"Hopefully it means I at least touched them in some way, they appreciated what I did," Sturtevant said. "I think anyone that puts any number of years into one thing you often wonder if anyone appreciates it and I think today clearly it was shown that a lot of people appreciated it."
Liam Sullivan is the beat writer for the Bourne Braves and is an undergraduate at Syracuse University. Follow Sullivan on Twitter @Liam_Sullivan_ or @BourneBraves. He also be reached by email at [email protected].