News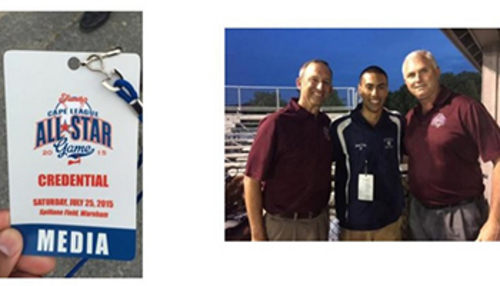 01/22/2016 4:13 PM
Article By: Jacob Tobey
I've lived on Cape Cod my whole life and throughout the years, I never realized the gateway to my ultimate success was right in front of my eyes. I was blind to it.
Growing up in a small town like Sandwich, I didn't really think there could be such an amazing opportunity in my back yard that would help me carve out a path to my future, but I was wrong. That pathway is the Cape Cod Baseball League.
When I was a sophomore at Sturgis East Charter Public School in Hyannis, I realized what career I wanted to pursue: sports play-by-play broadcasting. I fell in love with the idea and have never looked back. Ever since, I've been working toward that goal. I was the co-founder of a sports radio group at Sturgis and we broadcast basketball and baseball games. I fell in love with storytelling and because of this I wanted to see what types of internships were out there. I talked with my mom and she mentioned the CCBL and so I contacted Public Relations Director John Garner Jr., and not long after, I became part of the country's top collegiate summer baseball league.
My title was "league intern" under the PR department, specifically under Mr. Garner. I was assigned to do Cape League Reports on WXTK-FM (95.1) three days a week while Wareham Gateman broadcaster Eric Bremer did the other two. These reports included game scores from the previous night, a schedule for that day, and any league news that was important. It was as simple as recording these updates on my computer at home, and sending it into the radio station the night before. The games mainly finished up by 10 p.m. so after finishing up my restaurant job at 10, I would then go straight home and record, a routine I got really used to following.
As a PR intern, I also got to help out with the Sunday Night Game of the Week, which was broadcast on sports radio 96.3 WEEI Cape Cod. Along with play-by-play man Larry Egan and color analyst Garner, I played the part of relaying the other scores on the air every three innings or so, and occasionally adding some analysis to the broadcast. I would also grab the lineups before the game and fill out their scorebooks to prep them as much as possible. I loved getting to experience almost all the ballparks in the Cape League. Our schedule was set up to include every team in the broadcast at least once throughout the summer. I also loved hearing myself on live radio, and so did my family.
I had never been to any of these ballparks before and to experience the atmosphere at each was amazing. The fans were always into it, and I couldn't help but smile when seeing the kids chase fly balls and tackle one another.
Some unusual things can happen during the broadcast, and you just have to roll with it. I recall one time the WEEI broadcast was at Red Wilson Field, home of the 2014 and 2015 champion Yarmouth-Dennis Red Sox, and we were in the middle of a broadcast when a bird randomly swooped over the outfield, dropped its dinner (a dead animal) in the outfield and flew away. I can remember Larry laughing and still trying to broadcast what had just happened. It's memories like that that make the Cape League so special.
But none of my experiences could top the 2015 All-Star game, which was held at Spillane Field in Wareham. I had the opportunity to work with Fox College Sports broadcasters Eric Frede (Comcast SportsNet) and Ken Ryan (former Red Sox pitcher), and anything they needed before and during the game, I was their man. Aside from the memories of that day, I also received a fancy media press pass that's become a treasured keepsake. Eric and Ken were amazing guys, and sitting with them throughout the whole broadcast, I got to witness how they taped their pre-game opening and how they relayed back to the tech truck and all the little things that viewers on television never see. Watching everything Eric did made me a better broadcaster and getting a shoutout from him at the end of the TV broadcast was something I'll never forget.
It was amazing to hear myself on the radio at age 18, doing sports. I can't think of a better way to get hands on experience with sports broadcasting than the Cape League. The league also allows for you to meet a lot of people. In addition to Eric and Ken, I got to meet WEEI.com's Boston Red Sox beat writer Rob Bradford at the Cape League's First Pitch Brunch, and he gave me great advice on how to become a true professional. I also met UMass Amherst Athletic Director Ryan Bamford when we had him on WEEI for an interview.
There are so many people involved with the Cape league it is impossible to remember everyone's names. The one thing about the Cape League I love is no matter if you know someone or not, they will welcome you into the Cape League family. Judy Walden Scarafile, who recently stepped down as after 24 years as Cape League president, was one of the many who welcomed me with open arms. She talked to me like she was my friend, not my boss. She shared with me story ideas and useful tips to make me better. She made me feel welcome and I will never forget her kindness.
So what's next? Last month I was officially announced as a member of the 2016 Wareham Gatemen broadcast team. I will be doing play-by-play and color commentary for the Gatemen this summer and I couldn't be more excited. I also will continue to do Cape League reports. It's sure to be a busy summer, but to me, it'll be worth it.
There's no better feeling than hearing my voice on the radio, doing what I love. Plain and simple, the Cape Cod Baseball League is my perfect pathway to success.