News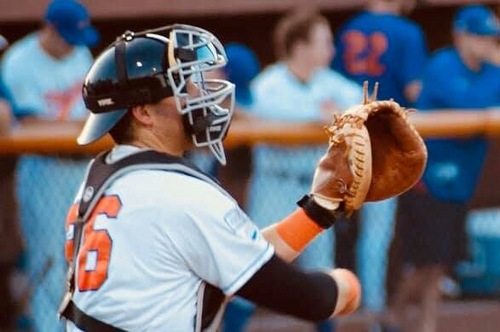 01/17/2020 10:56 AM
Article By: John Garner Jr.
HYANNIS, Mass. – Former Hyannis Harbor Hawks All-Star catcher Kevin Plawecki has been signed to a one-year contract by the Boston Red Sox.

Boston designated former Yarmouth-Dennis first baseman/outfielder Sam Travis (Y-D 2012) for assignment to make space on 40-man roster.

A native of Carmel, IN, the 28-year-old Plawecki is a five-year major league veteran with New York Mets and Cleveland Indians.

He's a career .218 hitter and batted .222 with three homers, 17 RBI and a .629 OPS with Cleveland last season and best year came in 2017 with the Mets when he batted .260 three homers and13 RBI and hit .210 with seven homers and 30 RBI in 2018.

Playing in Cape League in 2011, Plawecki hit .262 with the Harbor Hawks with one homer, eight doubles and 15 RBI. He was selected as a West Division All-Star and hit .364 in CCBL playoffs, going 4-for-11 with three doubles and two RBI.

"Kevin was an anchor on that special 2011 team that won 29 games," said former Hyannis field manager Chad Gassman. "I've been fortunate to coach many great catchers in Hyannis and Kevin's one that sits atop that list".

Travis, 26, was a second-round pick by Boston in 2014. He's appeared in brief major league stints since 2017, batting .230 with seven homers and .659 OPS over 111 games.
In addition, former Hyannis outfielder OF Jackie Bradley Jr. (Hyannis 2009) settled with Red Sox in arbitration, as did former UConn and CCBL pitchers Brandon Workman (Wareham '08-'09) and Matt Barnes (Wareham '09-'10).

The Hyannis Harbor Hawks, formerly Hyannis Mets, are a collegiate summer baseball team based in Hyannis, Mass. The team is a member of the Cape Cod Baseball League (CCBL) and plays in the league's West Division. They are operated by the non-profit Hyannis Athletic Association.

The Harbor Hawks play home games at renovated Judy Walden Scarafile Field at McKeon Park, which has an electronic message board installed in 2019. Hyannis won Cape League titles in 1978-79 and 1991 and in 1979 set league records for wins (33), points (67), batting avg (.314), total bases (724) and runs (348).

After last season, the Harbor Hawks hired new field manager Gary Calhoun, replacing long-time mentor Gassman, who departed Hyannis last month to became athletic director at Waldorf University in Iowa.