News
07/26/2009 1:17 PM
Article By:
26 July 2009
Chris Sale named MVP of East Squad
By Ashley Crosby, CCBL Intern
BOSTON, Mass.—Not even the rain at Fenway could tamper with Chris Sale's (Florida Gulf Coast ) MVP appearance. The 6-6 left-hander from the Y-D Red Sox only needed six pitches to finish the third inning, but he made them count, striking out one and allowing no runs or hits.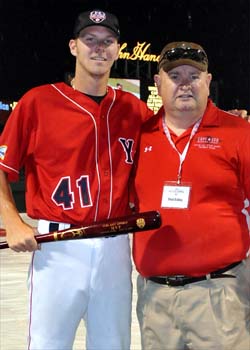 Chris Sale presented with East MVP Award
by Commissioner Paul Galop
SportsPix 2009
"The fans, the weather, the situation, it kind of just is in the background," Sale said about his performance. "They were the six best pitches I've ever thrown. It just happened so fast."

"I was signing some kid's baseball for him and I hear it over the loud speaker," he said. "It was a great moment. It's another thing I can cross of the list of something I've always wanted to do."

Sale came in to pitch in the third inning to relieve Brewster righty Kyle Blair (San Diego).

"Six-pitch inning, I think he deserves it, he was our best performer," said East manager and Harwich field manager Steve Englert.

"It's so hard to pick, the kids are so easily matched," said Cape Cod Baseball League Commissioner Paul Galop. "Somebody just does something a little more than the other guys. Sale pitched well."

Sale is 4-2 in his season, with 1.34 ERA over 47 innings.

Ashley Crosby can be reached at [email protected]

Interns: Chris Blake, James Chandley, Ashley Crosby, Phil Garceau, Michael Campbell, Katy Ann Fitzpatrick