News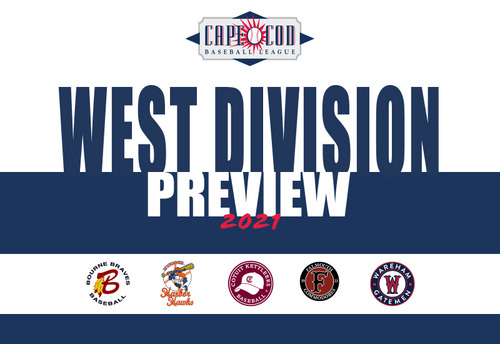 06/15/2021 4:31 AM
Article By: Michael Lane
Cotuit Kettleers
The first pitch of the 2021 Cape League season will fittingly be at the same place where the 2019 season ended, Lowell Park. The Cotuit Kettleers will have a lot of familiar faces from their 2019 championship team, including Oraj Anu (Kentucky), Harrison Cohen (George Washington), Sean Sullivan (Cal Berkeley), and Donta Williams (Arizona.) Among the newcomers will be Enrique Bradfield Jr. (Vanderbilt), who has impressed many this spring with his defensive play in centerfield, in addition to hitting .363 with an NCAA leading 42 stolen bases. Behind the plate for the Kettleers will be Matt McCormick (West Virginia), who is hitting .298 with a .896 OPS and 10 home runs so far in his collegiate career for the Mountaineers. Potentially closing game for Kettleers will be Jack Anderson (Florida State), who has been dominant out of the Seminoles bullpen this year with a 2.39 ERA, 10.4 K/9, and 1.2 BB/9 so far in 30 innings of work. Mike Roberts is returning for his 17th season as head coach of the Kettleers. He has put together a promising team to finally defend Cotuit's 2019 championship trophy.
Falmouth Commodores
The Falmouth Commodores had a league wide best record of 27-15-2 in 2019, including an 11-game winning streak in July that helped them enter the playoffs as the top seed in the West Division. This year a pair of SEC standouts, Cade Doughty (LSU) and Colby Halter (Florida), will comprise the Commodores middle infield that should be one of the best in the Cape League. Doughty has hit .303 with 12 home runs and 53 runs-batted in so far this spring for the Tigers. Halter has hit .299 with three home runs and 32 runs-batted in for the #9 ranked Gators. In the bullpen for the Commodores will be one of the scariest relievers in all of college baseball, Landon Sims (Mississippi State). In 32 innings of relief this season, Sims has a 0.49 ERA with eight saves and a 17.8 K/9. In his first outing of the season against #5 ranked Texas, Sims retired 12 Longhorns without allowing a base runner and struck out 10 of the 12. Led by Head Coach Jeff Trundy, the Commodores have the roster to be a serious contender for the CCBL Championship title.
Wareham Gatemen
Following an impressive 2019 season with a record of 24-18-2, the Wareham Gatemen are planning to return to the playoffs for the sixth consecutive season. The sole Gatemen returning will be Matt McLain (UCLA), a projected first round pick in this July's MLB Draft, who was the West MVP in the 2019 Cape League All-Star Game. Joining Matt will be his brother, Sean McLain (Arizona State), who had a slash line of .344/.408/.541 this spring, along with 23 extra base hits and 32 runs-batted in. Behind the plate for the Gatemen will be Logan Tanner (Mississippi State) who excelled offensively and defensively this spring. Tanner is hitting .287 with 11 home runs and has thrown out 10 attempted stolen base runners for the #3 ranked Bulldogs. The Gatemen lineup will have another pair of future stars in Owen Diodati (Alabama) and Jack Brannigan (Notre Dame). Brannigan is hitting .286 this season, with a .846 OPS and five home runs. Led by Head Coach Jerry Weinstein, the 2018 champs are looking for another trophy.
Bourne Braves
In Bourne, the Braves lineup will be anchored by returning shortstop Cody Morissette (Boston College), who was a Cape League All-Star in 2019. In the lineup with Morissette will be Josh Moylan (East Carolina), who is slashing .329/.425/.475 this spring with five home runs, and Reggie Crawford (UConn) who is slashing .286/.347/.538 with 11 home runs. Pitchers Ryan Hagenow (Kentucky) and Will Bednar (Mississippi State) will look to shut hitters down all summer. As a true freshman, Hagenow has a 2.74 ERA, a 10.6 K/9 and no home runs allowed this spring. A few other players who could play major roles for the Braves include Zach Agnos (East Carolina), Hayden Minton (Missouri State), and CJ Rodriguez (Vanderbilt). The team is led by experienced Head Coach Harvey Shapiro, who is part of the class of the 2020 CCBL Hall of Fame .
Hyannis Harbor Hawks
The #1 ranked team in college baseball this season, the Arkansas Razorbacks, will be well represented in Hyannis this summer with a trio of players. Mark Adamiak (Arkansas) and Blake Adams (Arkansas) will be key members of the Harbor Hawks' pitching staff, while Jalen Battles (Arkansas) should fit in as a standout middle infielder. Near the top of the Hyannis lineup will be Dru Baker (Texas Tech) who has broken out in his Junior season, hitting .385 with a .993 OPS and 17 stolen bases. Quincy Hamilton (Wright State) will be a player to watch, hitting .366 so far this spring with 12 home runs, 55 runs-batted in and 19 stolen bases. The Harbor Hawks will have two returning players from their 2019 roster in Adam Hackenberg (Clemson) and Billy Corcoran (Pittsburgh). Led by new Head Coach Gary Calhoun, the Harbor Hawks are poised to make some serious noise this summer.