News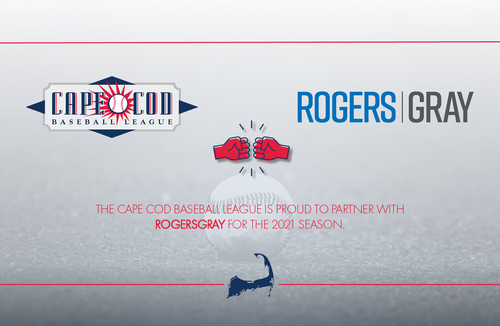 06/22/2021 6:10 PM
Article By: CCBL Public Relations Office

Yarmouth Port, MA - June 7, 2021. The Cape Cod Baseball League (CCBL) is excited to announce a partnership with RogersGray, for the upcoming 2021 season, that will include multiple promotional efforts.

RogersGray, the area's largest independent insurance agency, will have a presence at all CCBL game through press box announcements and logo placement in the Cape League Magazine. The organizations will be collaborating on various promotions utilizing all the CCBL's social media channels throughout the season.

RogersGray will be joining a Cape League Game of the Week radio broadcast, on 96.3 WEEI Cape Cod. They'll also host an event night at a Cape League game this season, that will provide fans an interactive opportunity to learn more about RogersGray services.

"By partnering with the Cape Cod Baseball League, we're able to support something the entire Cape Cod community rallies around. By supporting the Cape League, we're supporting the reopening of Cape Cod," said Senior Vice President, Lynn Mason-Small.

"We are excited to have RogersGray on board as a sponsor of the league. They are a leader in our community, not only in insurance, but support many deserving non-profits throughout the Cape," said Senior Vice President, Bill Bussiere.

The CCBL will join the list of over 120 non-profits in Massachusetts that RogersGray supports annually in their community involvement efforts.

"Since our founding in 1906, supporting our community has been one of the most important core values of our agency. With offices that span the entire Cape League playing area, it is a perfect fit," said Lynn Mason-Small.

Founded in 1906, RogersGray has been serving the insurance needs of clients in Massachusetts for over 100 years. With 200+ employees in 11 different locations, they have you covered. Everything done at RogersGray is governed by one simple guiding principle, to do the right thing for their people and their clients. They pride themselves on community involvement, family-like culture, employee education, and excellent client service.

The Cape Cod Baseball League is the premiere amateur summer baseball league for college athletes. Players come from colleges around the country to play for one of the ten teams on the Cape. The Cape Cod Baseball League began in 1885 and has helped numerous players achieve their dreams of making it to the major leagues throughout the 136 years, including 333 former players in the 2019 MLB season.