News
07/27/2008 10:23 AM
Article By:
27 July 2008
Green (East), Paulsen (West)
Are Scouts' All-Star MVP Picks
CHATHAM, Mass. -- Grant Green can cross off another feat from a list of Cape Cod Baseball League accomplishments.

After blasting a game-tying two-run homer in Saturday's Under Armour Cape Cod Baseball League All-Star Game, Green was an easy choice as the East Division MVP.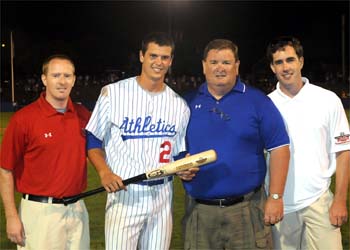 Grant Green, Chatham, East MVP
SportsPix / 2008
Green already has a CCBL championship under his belt from his campaign last summer with the Yarmouth-Dennis Red Sox.

And, with a batting average of .308 that he has managed to maintain so far this summer, he is a front-runner for the league's end-of-the-season Most Valuable Player Award.

The 6-3, 180-pound University of Southern California product slammed a first pitch offering to deep center field to knot the game at 6-6 in the seventh inning Saturday night. The East would cap the inning with a two-run shot by Mark Fleury to take an 8-6 lead, securing the come-from-behind victory propelled by a seven-run eighth inning and Green's blast.

"To me it was a big spot and a big pressure situation," Green said. "Normally I don't do well in those situations. I was just trying to put a good swing on the ball."

The pressure disappeared for Green, however, when a trio of streakers darted across the outfield, causing play to be paused and allowing Green to relax.

"I didn't keep my focus one bit," Green said. "I just started busting up. I thought it was the funniest thing I have ever seen at a baseball game. It probably helped me more than it hurt me."

Green is familiar with crossing home plate at Veterans Field. He has scored a team-high 27 runs for Chatham this summer while also racking up 77 total bases plus 17 RBI.

Being able to cross that home plate at Veterans Field in the All-Star Game meant a little more, Green said.

"I feel like I represented the Chatham A's well. I mean you hear of all the great players that have been here in the past -- Evan Longoria and Aaron Miller, all those great names. I finally feel like I can wear this uniform with pride."

Green started all 56 games for the Trojans as a true freshman in 2007.

And, in the first game of the championship series last summer, Green collected four RBI and connected for two home runs.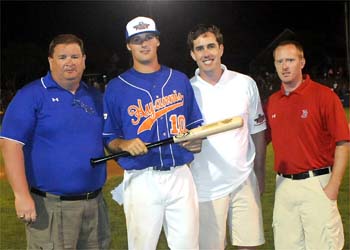 Ben Paulsen, Hyannis, West MVP
SportsPix / 2008
Hyannis Mets first basemen Ben Paulsen (Auburn) walked away with West MVP honors. Paulsen broke a 1-1 deadlock in the sixth, driving in two runs.

"It was a blast. Just playing with all these different guys from all over, you don't get a chance like this every day," he said. "Being out here was a lot of fun."

Paulsen has seen action in all 34 games this summer, carrying a .282 average and leading the Mets with 25 RBI.

Paulsen, who was the starting first basemen for the West, said his hitting against southpaws has been his biggest improvement since the beginning of the season.

"We see (left-handed pitching) every other day up here it seems, where as back at school there aren't too many lefties."

The collection of scouts in attendance agreed on one thing when it came to selecting their MVPs -- clutch-hitting.

Green and Paulsen delivered.

The two are used to it by now.

Laura Rasmussen, CCBL Intern ([email protected])


Interns: Chris Blake, James Chandley, Ashley Crosby, Phil Garceau, Stefanie Marini, Laura Rasmussen