News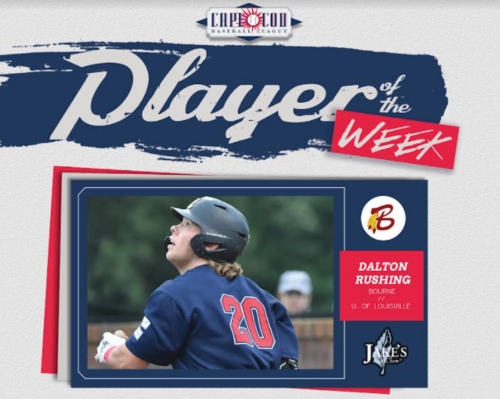 07/19/2021 7:03 PM
Article By: Ethan Kagno
Player of the Week: Dalton Rushing (Bourne Braves, University of Louisville)
Dalton Rushing was phenomenal this past week for the Bourne Braves, who currently own the best record on the Cape (17-2-3), winning their last six games in a row. The Louisville first baseman/catcher led the CCBL with 10 hits last week and batted an even .400 with a pair of doubles, home runs, and five walks at the plate, good enough for a .500 OBP. As of Monday prior to games, Rushing is slashing .324/.410/.559 with a .969 OPS. The first-place Bravos have been a really tough team to beat this season, and have outscored their opponents 110-56 (+54) en route to an 8-1-1 record in their last ten games.
"Try Jake's Mint Chew today for a healthy alternative to tobacco. Visit www.jakesmintchew.com for more information and use promo code "cape cod" for 15% off your first order.
Chew Healthy, Chew Jake's!