News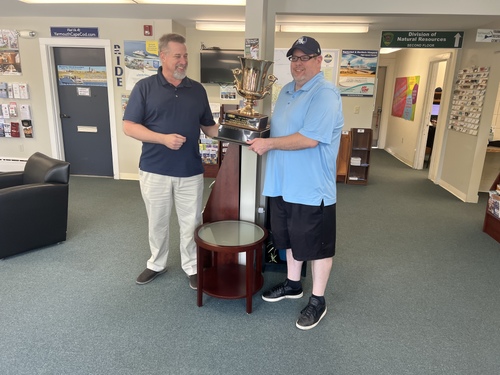 05/25/2022 5:00 AM
Article By: CCBL Public Relations Office
The Yarmouth-Dennis Red Sox, alongside the Yarmouth Chamber of Commerce, held a ceremony Tuesday to celebrate the organization being awarded the 2021 Paul Galop Commissioner's Cup.
The Paul Galop Commissioner's Cup, renamed last May to honor the longest tenured commissioner in league history, is presented to the team that demonstrates the highest level of integrity and professionalism, on and off the field.
"The Paul Galop Commissioner's Cup was named to honor Paul, not only as the longest tenured commissioner, but as a great person personaly and professionally. I was honored to call him a friend," said current Cape League Commissioner Eric Zmuda.
The honor given to Y-D at the end of last season marked the second consecutive season they were chosen to receive the award. In a league full of volunteers, whose tireless efforts year-round allow for the great experience every summer, it's one of the highest honors a Cape League team can receive.
"It was a well deserved honor for a great franchise in our league, the interactions on a daily basis with Pick (Scott Pickler) and Steve Faucher were a pleasure," said Zmuda.
"There are a lot of franchises that represent themselves the same, but only one team can win it every year," added Zmuda.
For first-year team President Shane Skinner, there is a lot pressure to continue the tradition that has been layed out by previous team leadership. Despite changes within the organization and the challenges presented by a missed season in 2020, Y-D was able to maintain the same level of professional excellence they exhibited in 2019 when they also received the honor.
"It means a lot to our organization for the hundreds of hours of work from all of our volunteers, to put on a good experience for fans, it payed off," said Skinner.
The best part of putting on a good experience for Skinner? Seeing all the kids smiling in the stands, in awe as they watch future major leaguers. A common scene across the Cape League, where the stars of tomorrow shine tonight!

The Paul Galop Commissioner's Cup will be on display at the Yarmouth Chamber of Commerce for fans to visit over the next two weeks, before returning to Red Wilson Field ahead of Y-D's home opener on June 14th.