News
06/01/2022 9:19 PM
Article By: Michael Lane
1. Games are Free!
The Cape Cod Baseball League, and all ten of our franchises, are non-profit organizations. There is no admission charged to attend a game, though fans can choose to give a small donation at games. The league is thankful for all of our sponsors and the support of our generous fans which allow us to provide an amazing fan experience, free of charge, every summer!
2. Ballpark Food
A sausage and pepper sandwich in Orleans. Fried gator bites in Falmouth. A walking taco in Hyannis. The iconic donut burger in Yarmouth-Dennis. Across the league there are exciting food choices to try at each field. Of course you can never go wrong with the classics either, like a ballpark hot dog or peanuts!
3. Ten Communities
Our ten teams are located across the Cape, from Wareham to Orleans. Regardless of where you're located on the Cape there is a game going on close to you. Check the schedule here to find a game near you!
4. The Stars of Tomorrow Shine Tonight
In 2021 a record breaking 367 Cape League alumni appeared in a Major League Baseball (MLB) game. Some of the biggest names in baseball started on Cape Cod including Aaron Judge, Pete Alonso, and George Springer. Additionally, the first-overall pick in the MLB Draft has been a Cape League alum for four consecutive years. You can watch the stars of tomorrow shine tonight!
5. Baseball Skies
Summer nights on the Cape provide breathtaking sunsets on a regular basis. Our franchises with later start times are able to enjoy these sunsets during games. There is nothing better than a baseball sky. Don't believe us? Look for yourself!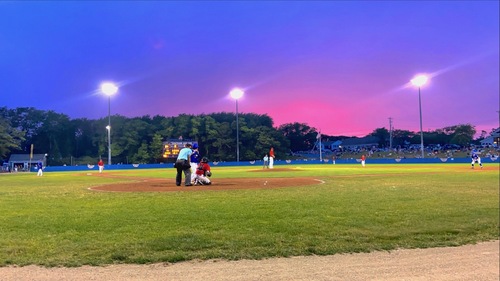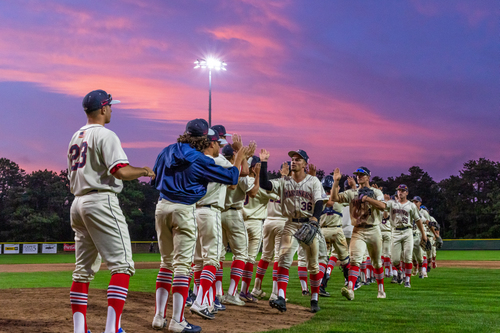 6. Find the Perfect Seat
All ten ballparks are high school or community fields, providing fans an opportunity to be very close to the action. There are no bad seats, whether you're sitting in the bleachers or bringing your own beach chair to set up. If you're making a trip to Orleans, bring a blanket and sit on the infamous hill!
7. Fun for All Ages
Cape League games are the perfect environment for fans of all ages. A handful of ballparks have a playground for kids to enjoy, at others you may find a game of wiffleball being played off to the side. You can interact with the players on the field following the games to get autographs. Our teams put significant effort into making the experience memorable for everyone!
8. Pair of Games Off-Cape
Even if you're unable to get down the Cape this summer, you'll still have an opportunity to take in some Cape League baseball. There will be two games played at minor league ballparks this summer. Dunkin Donuts Park, in Hartford, CT, will host the Y-D Red Sox and Hyannis Harbor Hawks on July 20th at 11am. Five days later, Polar Park in Worcester, MA will host the Bourne Braves and Wareham Gatemen at 6:45pm.
9. Uniforms
They say look good, feel good, play good. Well our teams took that to heart with a diverse mix of retro and modernized jerseys. After attending just one game you may want to get some merchandise to represent your new favorite team. Head on over to the merchandise areas and volunteers from that organization will get you looking good too! Honorable mention to Harwich's off-white jerseys, which might be the cleanest across all summer baseball leagues.
10. It's Special
Cape Cod in the summer is a special place, it truly is baseball heaven. Everything about it is magical. The atmosphere. The weather. The sights. The sounds. The sunsets. Most importantly the people. But everything in this article can not fully describe how remarkable of an experience a Cape League game is. If you have never attended one, please let this summer be your first experience. I can personally promise you it won't be your last!