News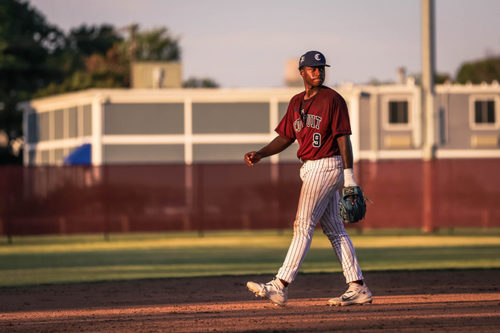 06/21/2022 2:55 PM
Article By: Clara Richards
Cam Collier hates the ocean, but his first day on the Cape, he went kayaking anyways. He and his fellow classmate from Chipola College paddled out from shore. Collier fell in a few times, getting dunked in the cold June water of the Cotuit shores, before retreating to land.
"I didn't know he couldn't swim that well," his teammate Kenya Huggins said. "But I was right there, and I didn't even have to jump in to save him."
It's a good thing for the Cotuit Kettleers that Collier is better at baseball than he is at kayaking.
His at-bats are electric. During the home opener, along the green outfield of Lowell Park, Collier swings long and hard in the bottom of the fourth. He makes contact, his arms extended and body twisted with the momentum of his motion. The bat fractures under his hands, the wood stems cracking under the force of the pitch as he makes contact with the ball. Undeterred, Collier scrambles towards first base. His splintered bat lands along the base paths along with the ball skidding across the dirt, and the crowd of Kettleers fans around him inhales.
Yet, in a cloud of dust, he beats the throw. So many players before him have done the same, slung a wood bat across the infield in the maroon pinstripes of the Kettleers jerseys. Bradley Zimmer did when he played at Lowell Park. Jared Walsh, first baseman for the Angels, scuffed the dirt in 2013 when he crouched at the plate for the Kettleers. Scouts study Collier's stats on the benches behind home plate, click their stopwatches and try to see how his buttery swing might measure up in the majors. Some days, the major league onlookers head out early to catch games further down the Cape, but the benches stay packed for the entire outing — the July draft is approaching.
On the field at Lowell Park, it's easy to forget that Collier is seventeen. He blends in completely with the rest of the team of collegiate stars from around the nation. It's only when you see him leaving practice, occasionally riding a bike down the streets of Cotuit, weaving around a little, that you remember that he's a little younger than the rest of the group. For all intents and purposes, he should just be a high school senior, going to prom and walking down a long aisle in his cap and gown with the rest of his classmates. But it's not. After his junior year of high school, Collier reclassified for the 2022 draft and attended Chipola Junior College. It's a choice that he said was the best decision he's ever made. On the first day of the draft, he'll be seventeen years and 239 days old.
Even though he got his GED, Collier spent very little time sitting in a physical classroom. His freshman year of high school was shut down by COVID-19, and then he stayed online to play travel ball. His classic high school experiences, like school dances and big football games, came in fragments — he went to a high school prom while attending JuCo, and he attended a friend's high school football game.
Initially, he felt like he was missing out. "But then I went to prom, and I got that experience. And it was pretty boring," he said. "So I don't mind what I'm missing anymore."
In three games with the Kettleers so far, he's notched three hits and scored one run, with a batting average of .333. He's recorded an on-base percentage of .375 and played two games at third base, a contributor to the Ketts' opening win streak. For Collier, playing on the Cape has been an adjustment. He's had to adapt to higher velocity from pitchers, more movement on breaking balls and playing with wood bats against top-tier competition.
"It's been an eye-opener," he said, describing his at-bats as "not terrible, but not where I want them to be, either."
"I do think that he's going to have some success, like all the players," Cotuit head coach Mike Roberts said about his youngest player. "The question mark that I'll find out in the next few weeks is how each player handles struggles, whether they're 17 or 23. Because that's called how you handle failure."
Roberts has only coached one other seventeen-year-old in his time in summer ball, Robert Stock from the University of Southern California. Stock eventually went on to get drafted in the second round, debuting in the majors in 2018 for the Padres. In Cotuit, though, Stock was just truly just a high schooler. In the middle of July, Harry Potter and the Deathly Hallows was released, and the teenager stayed up all night reading. When the rest of the team would head down the street to the Coop for lunch, Stock would stay in the dugout and pull out the 900-page novel.
"That's my other 17-year-old," Roberts said.
Cotuit's head coach has only had a few weeks to get to know Collier, but his early impressions have been of a quiet, eager-to-learn student. As a college professor, Coach Roberts has a unique metric to judge his new athletes: eye contact. If he has eye contact, he might have a chance to have brain contact, he tells his players.
"Really good eye contact with Collier," Roberts said. "He's interested in getting better. It's extremely mature for 17-year-old to come in and practice and compete against players up to 23, 24 years of age, because of COVID. I admire him because of that."
In the opening day matchup, the team was attempting to put together its identity as a group. The dugout was quiet compared to a rowdy college team bench, yet Collier was yelling from the right side of the dugout. "Come on, Loma," he called out to the catcher, who he met two weeks ago. He nods his head at a fellow Ketts fan who boos the umpire. "Where did that miss?" It's the same energy of a student volunteering to answer a question in a silent classroom.
His contributions have impressed his new teammates. "He looks the part, plays the part," said Kentucky shortstop and Ketts returner Ryan Ritter. "It's the first time I've played with him, but I've always heard a lot about him. And he really is living up to his name."
In an interview setting, Collier is thoughtful and reflective. Yet in the dugout and while he's on the field, he's fast to speak up and support his teammate. Watching him do his drills and stride up to the cage, he's all in; you can see the frustration on his face when he takes a big hack and doesn't feel the crack of the ball. By all accounts and purposes, he doesn't have to be in Cotuit, playing in the Cape Cod League, at all — his draft stock would be high regardless, after a stunningly good year at Chipola College.
He's here anyway. "I'm not really someone who likes to sit at home when I can be playing baseball games," he said.
And that's Cam Collier—someone who will take risks, who wants to be on the field, taking hacks and learning from the best. On national television, he's a thoughtful and measured talking head, giving polished quotes about growing up with a dad who played in the majors. His dad, Lou Collier, was a utility player who played eight seasons of big-league ball. "Growing up, I learned all the right stuff, just being able to pick his mind and being able to go to the park with him," he said on MLB Network.
Yet he's also a teenager who almost quit baseball when he was thirteen and fourteen. He's an adrenaline junkie, someone who loves the Six Flags near his dad's home in Georgia. As soon he was tall enough to be allowed past the gate, he spent afternoons as a kid buckled into the steepest rides. When asked if he ever had a rebellious phase, where he didn't want to listen to his dad, he laughed a little. "To be honest, I'm still kinda in it."
CBS has him listed in the sixth overall draft slot, while a MLB mock draft by Jim Callis has him going at seventh to the Chicago Cubs. Last week, Collier flew across the country to the MLB Draft Combine, where he went through a variety of tests and interviews.
For his part, all he can do is focus on his next at-bat, the majority of the decision out of his control. The seventeen-year-old can't remember the last time that he spent a day without a baseball in his hand.