News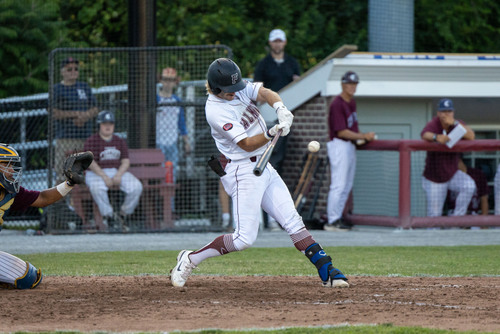 07/12/2022 1:36 PM
Article By: Daniel Fox
If there was a storyline early in this Cape League season, it was the dominance of the men on the hill. It's frequent to see pitchers ahead of the hitters early in the Cape League season, as it takes time for hitters to adjust to the wood bats. Through the end of June, only two teams were averaging more than four runs per game, and only the Cotuit Kettleers could boast an average over .235.

The Falmouth Commodores were one of the many teams struggling with the sticks early in the season. The Commodores averaged 2.72 runs during their first 18 games while hitting under .180 as a team, easily the worst on the Cape. Things got particularly brutal when their best hitter Brayden Taylor, who was slashing .242/.395/.546 and among the league leaders in home runs, left for team USA along with shortstop Maui Ahuna and catcher Jack Payton.

In a span of a week, the Commodores scored just one run in a doubleheader sweep at the hands of the Yarmouth-D Red Sox, just one run in a 5-1 loss to Hyannis, and got shut out by both Bourne and Brewster. In all, the Commodores had scored just six runs in their last 50 innings and just one in their last 21, and their 5-11-2 record had them at the bottom of the Western Division.

The offense needed a spark, and they got it in the form of Arkansas standouts Peyton Stovall and Jace Bohrofen, who joined the team after the Brewster loss upon the conclusion of Arkansas' College World Series run. Suddenly, the Commodores offense was among the league leaders in hitting. Over the past 7 games entering Sunday, the Commodores have averaged 5.87 runs a game and launched 11 home runs, leading to a 5-2 record during that stretch.

While the turnaround may have started when Stovall and Boherfon arrived, it's been Alabama center fielder Andrew Pinckney who has been the team's best hitter. Pinckney had gotten off to a slow start at the plate, collecting hits in four of his first 32 at-bats. After hitting .303 at Alabama, Pinckney found a much different challenge here in the CCBL.

"The SEC is definitely a lot different than the Cape," Pinckney said. "Even in the SEC, you run into some guys that you can kind of give yourself a deep breath on, but up here, it's everybody's best guy from all around the country. So it's definitely an adjustment you have to make."

Pickney began to find his stroke with a solo shot against Hyannis, and took off from there. He's hit four home runs and 10 RBIs in his last eleven games, with the biggest blows coming in a 10-7 win against Cotuit on July 4th, where he homered twice and drove in five. On top of his recent hot streak at the plate, he is a perfect 8-8 in stolen base attempts this year, making a strong case as one of the best all-around players on the Cape.

"That's a perfect example of a guy who was having some difficulty and struggling early on, but he stayed with it. He stayed the course. He trusted what we were telling him," assistant coach Ryan Ihle said . "We knew that he was really, really close. And when he had that breakout game against Cotuit with two home runs, it added a really big boost of confidence for him, and now he's playing with a little bit more swagger."
Similar to Pinckney, Oregon first baseman Jacob Walsh got off to a slow start at the plate. Walsh got just seven hits in his first 52 at-bats, and while he had two home runs in that span, he was striking out in over a quarter in his at-bats. To get things going at the plate, Walsh focused on getting back to basics at the plate.

"Just trying not to do too much and trying to hit everything on a line," he said. "I think when I'm just simple and see the ball well, good things happen."

That line-drive approach has paid off, as Walsh has batted .280 and homered two more times in his last seven games entering Sunday.

"Walsh is a guy who can leave the ballpark at any time," Ihle said. "But when he starts trying to do that, that's when he starts to be slow through the zone and that's a recipe for disaster. When he stays with that line drive approach, he has an opportunity for success."

While Walsh and Pinckney's hot streaks have given the lineup depth, the guys at the top of the order who have been consistently getting it done all season. Duke shortstop Alex Mooney has led off in every Commodore game but two. He was one of the few Commodores hitting during their cold streak, which included a 3-for-5 day with a home run and triple in Falmouth's comeback win against Wareham.

"Having Alex is awesome," Ihle said. "He's been somewhat of a leader at the top of our lineup. You know what he's going to bring , you know that he's going to get after it every single day. He's the guy who set the table for everyone else behind him."

Mooney has been particularly strong during the Commodores hot streak, batting .357 and converting on all five stolen bases. It's not a coincidence that his recent strong play has coincided with the return of Stovall and Bohrofen, as well as the hot streaks of Walsh and Pinckney.

"It's definitely reassuring getting on and you know there's a good chance if you get on you're going to get hit in," he said "So I try to do everything I can to get on and steal second and get in scoring position (because) I have a lot of confidence they are going to drive me in."

While many hitters have struggled adjusting to the wood bat, Mooney's past experience has helped him make a smooth transition from college to the Cape League

"For me, I don't think it's that big an adjustment," Mooney said . "I've swung wood for a long time, just playing travel ball and stuff like that. So it hasn't been too bad. Playing in the ACC really prepared me pitching wise just seeing guys every night, every weekend. Obviously this league is really good and it's tough to hit, but I felt I was pretty well prepared."
As good as Mooney has been, Florida's Colby Halter leads the team in many offensive categories.. The infielder is sixth in the league with a .306 average and tied for third with four home runs. Like Mooney, Halter credits hit comfort with the wood bat to his summer success,

"Hitting with the wood bat is something I've really enjoyed my whole life, in the summers in high schools and stuff, and after that in the USA and everything. " Halter said. "It just feels really natural in my hands."

Another key component of Halter's game is his ability to work counts. Only five batters in the Cape League have walked more than the third baseman, and his .427 on-base percentage is also top ten in the league. Halter has a unique two-strike approach where he chokes up considerably on the bat, an unusual attribute for anyone nowadays but especially a hitter with so much power.

"I wouldn't say I'm super excited about hitting with two strikes, but I definitely feel comfortable," Halter said . "Sometimes in the past, I've sort of been a better hitter with two strikes."

"We got to just stay the course and keep doing what we're doing," Ihle said. "Having fun out there, taking good rounds of BP, and having confidence in ourselves that we can beat anyone."