News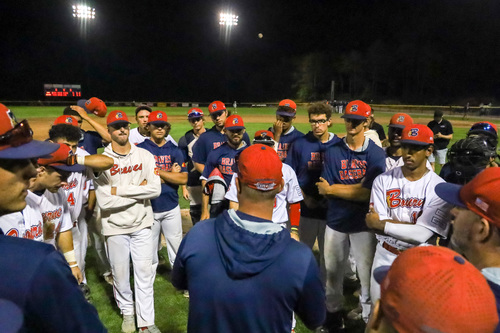 08/11/2022 6:40 AM
Article By: Kayla Gregoire
After riding an eight-game winning streak in the playoffs, the Bourne Braves spoiled the Brewster Whitecaps playoff hopes of a nine-game winning streak.

Day one of the Championships was supposed to start on Tuesday, August 9th at 6:00 p.m. After lightning and rain hit the area, the Championship was moved to Wednesday, August 10th.
This meant the teams got a little extra rest heading into game one of the series.

The players that seemed to get the most rest were the pitchers that started on the mound for both teams. Looking at the box score, it is evident that game one was a pitchers' duel.
Matt Duffy started on the mound for Bourne and had six shutout innings in his outing. The right-handed pitcher faced 20 batters and allowed three hits with no runs. Duffy struck out three batters and walked one.

Both of the three hits were allowed in the first three frames of the game but was able to get out of each inning unscathed. The pitcher also showed awareness, picking off Cameron Fisher at first to get out of the second inning.

After Duffy's dominant performance, Seth Kenner came in to get the last nine outs of the game. In Keener's three innings, he did not allow a run on the board, keeping the Whitecaps from scoring the whole game. The Wake Forest pitcher struggled in the first, walking Fisher, then allowing a single by David Mendham to advance the runner to third. Despite a runner in scoring position, Kenner got out of the inning.

Brewster starting pitcher Troy Butler allowed one run in the first inning and was dominant after that inning. After allowing a walk to Matt Shaw, Mac Horvath singled to advance Shaw to first. Chris Brito followed Horvath's hit up with a single of his own to score Shaw to make it a 1-0 game.

The next four innings Butler went without giving up a run to cap off his night.

The big hit of the night for the Braves came from Shaw to extend his team's lead. In the seventh inning with Bryce Eblin on base, the Maryland shortstop tripled to send Eblin home and position himself in scoring position. For the last run of the inning Horvath hit a sacrifice fly to send Shaw home and give a 3-0 lead.

Brewster attempted to make a comeback case for themselves in the ninth inning but could not complete it. With two runners on base for the Whitecaps, Keener found himself a way out of a jam and solidified a Bourne win in the books.

The Braves will travel to Brewster in an attempt to win their first Championship in 13 years.