News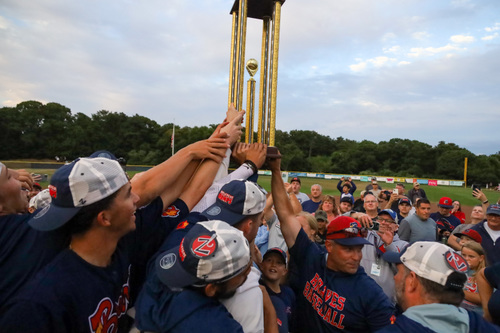 08/18/2022 12:44 PM
Article By: Ethan Kagno
The Bourne Braves won their second Cape Cod Baseball League championship in club history and their first since 2009 in an 8-1 defeat of the Brewster Whitecaps. First-year head coach, Scott Landers, became the first coach since Kelly Nicholson (Orleans) in 2005 to hoist the Arnold Mycock Trophy in his first season with a new ball club. Landers previously coached alongside Brewster's field manager, Jamie Shevchik, whose staff beat Harvey Shapiro's Bravos in last season's finale.
His second championship in as many years, Scott Landers' Bourne squad was the hottest team coming into the playoffs after the All-Star break. He coached the team to an unbeaten 7-0-1 record after the midseason festivities and helped Bourne clinch the President's Trophy – given to the team with the best overall record – for the second consecutive season. The Braves 23-14-7 record accrued a league-best 53 points en route to a second consecutive finals appearance. While their regular season was undeniably historic, Bourne continued to play hard and be winners. After all, winners do in fact, win. Landers had this heartfelt message to say to his team after winning it all.
The @BourneBraves are your 2022 @OfficialCCBL Champions!

Here's what HC Scott Landers (@Landu0909) had to say to his team prior to hoisting the Arnold Mycock Trophy; the club's first since 2009.#GetUpBourne pic.twitter.com/VjvQB1Z64q

— Ethan Kagno (@Ekagno32) August 12, 2022
In addition to a coaching staff that also had a former Boston Red Sox champion in Jarrod Saltalamacchia, the Braves were one of the most balanced teams on the Cape this season. They had the second-best run differential (+22) and allowed a league-lowest 129 earned runs. Their nine triples were tied for best on the Cape with no shortage of dangerous bats in the lineup.
Perhaps the player of the summer was 2022 Cape League MVP, Matt Shaw. The Maryland Terrapin locked up the batting title with a .360 AVG to go along with his 10 doubles (T-2nd), 5 home runs, 19 runs batted in, and 21 stolen bases (3rd). Despite an 0-for-10 slump to begin playoff action, Shaw came up clutch when it mattered most. In the final four games of the season, Shaw batted 6-for-13 (.462) with 6 R, 1 3B, 1 HR, 4 RBI, 5 BB, and 3 SB.
Matt Shaw (@TerpsBaseball) won CCBL MVP & Batting Title. 10 2B, 2 3B, 5 HR, 19 RBI, 18 BB, 21 SB - .360/.432/.574 (1.006 OPS). Led Bourne to a 7-0-1 record post-ASG to repeat as President's Trophy winners. '23 1st-round talent.@OfficialCCBL | @BourneBraves | #CapeLeagueAwards pic.twitter.com/ONULhHGcnd

— Ethan Kagno (@Ekagno32) August 4, 2022
If it weren't for Bryce Eblin, there's a good chance Shaw could have added the Playoff MVP award to his already crowded trophy room. Instead, the middle infielder who plays his spring ball at the University of Alabama took home the hardware. Eblin swatted .458/.536/.500 with three multi-hit games during the playoffs. He solidified the Playoff MVP honors with a 4-for-5 evening, two runs, and a stolen base to clinch the championship for Bourne. He finished with a league-best 11 hits in the playoffs.
One of the most notable players on the Cape this season was Chris Brito. The Scarlet Knight slugger made his name well-known with his 14 two-baggers that led the CCBL during the regular season. His power transferred over to the playoffs as well, adding another three doubles to his impressive total. In addition to his raw power, Brito managed the strike zone well and showed great plate discipline, walking 32 times during the summer. Brito recently announced he would be returning to Rutgers for another year, so you'll be seeing plenty more of these "Brito Bombs."
With Bourne's explosive offense leading the way, it was the pitching later on in the playoffs that made the biggest impact. The pitching staff allowed just 21 earned runs in 62 innings pitched; good enough for a 3.05 team ERA. They had the most strikeouts of any Cape League playoff team with 64. The most impressive pitchers to highlight were Robb Adams, Matt Duffy, Bryce Cunningham, and Ty Cummings.
Robb Adams (Southeastern) was perhaps the most impressive out of the bunch. He lasted five innings and silenced a screeching loud Hyannis Harbor Hawk offense with zero earned runs in a 7-4 series-clinching victory to move onto the finals.
Matt Duffy (Canisius) mowed down Brewster's potent lineup in Game 1. In his six innings of work, he allowed just three hits, a walk, and struck out three Whitecaps in Bourne's 3-0 shutout win.
Bryce Cunningham (Vanderbilt) sat down eight Harbor Hawks in his sole semi-finals start for the Bravos. Despite lasting only 4.2 IP and earning the no-decision, Cunningham was effective, holding Hyannis to three runs which allowed his teammates to put up enough offensive firepower to win the game.
Lastly, Ty Cummings (Campbell) was arguably the best relief pitcher in the league this season. He made three appearances during the playoffs that included two saves, highlighted by a 10-out save (3 H, 0 R, 0 BB, 3 K) to give Bourne its first championship since 2009.
BOURNE. GOT. UP.

The @BourneBraves are your 2022 Cape League Champions! pic.twitter.com/UxDIt2YL6m

— Cape League (@OfficialCCBL) August 11, 2022