News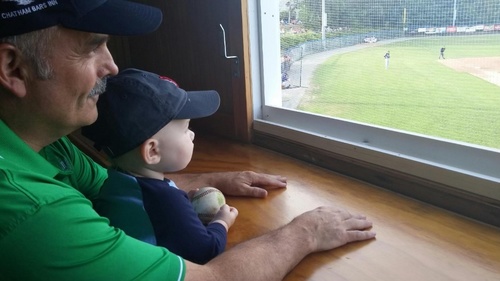 11/23/2022 12:49 PM
Article By: Michael Lane
Bill Bussiere was honored with the 2022 Fred Ebbett Lifetime Achievement Award last Sunday for his service to the Cape Cod Baseball League.
Bussiere served in numerous roles within the Cape League for over three decades, at both the league and franchise level.
During Bussiere's eight years as Director of Corporate Development at the league level, he raised over four million dollars to pay for field improvements, safety netting, transportation, and trainer support. He entered his role under demanding circumstances, but navigated through financial challenges, including those caused by COVID, to leave the league in an increasingly stable financial condition.
His impact on the league was critical to the continued growth and financial stability seen over recent years.
"It was a tremendous, rewarding experience to work with Bill. Bill took the Corporate Development job under difficult circumstances, and it was a saving grace to have had someone like him in charge during his tenure," said Chuck Sturtevant, CCBL President.
Bussiere served in dozens of other roles, evident by his speech at the Hall of Fame Brunch, during which he listed off each in reverse alphabetical order. Some highlights included: Senior Vice President, Vice President, Deputy Commissioner, Chair of the All-Star Game Committee, Webmaster, team President of the Hyannis Mets, General Manager of the Hyannis Mets, intern supervisor, and host family, among many others.
A highlight of Bussiere's time as General Manager of the Hyannis franchise was being named General Manager of the Year in 2011. That 2011 Hyannis team finished a league-best 29-15 and featured a handful of future MLB players, including Kevin Plawecki, Dylan Floro, and Nick Wittgren.
"Bill represents the best of the Cape League, quietly serving in so many roles and always looking for ways to help others. He continues to be a valuable mentor for me even after his retirement last winter," said Michael Lane, Director of Public Relations for the CCBL.
The Cape League is so special because of the personal relationships formed, and Bill's positive impact on people across the league was evident by receiving this honor.