News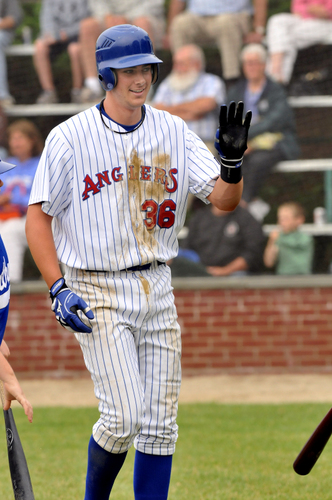 01/12/2023 8:30 AM
Article By: CCBL Public Relations Office
Chatham Alumnus Kris Bryant Finds Success in MLB After Struggling in CCBL
By: John Garner; feature from 2016 CCBL Season Opening Magazine

One of the most highly-touted Cape League prospects in recent memory was Chatham's Kris Bryant, a No. 2 pick in Major League Baseball's Draft in 2013 who signed a $6.7 million bonus with the Chicago Cubs and was named 2015 National League Rookie of the Year.
As a freshman at San Diego in 2011, Bryant batted. 365 with a .482 OBP, 599 SLG and nine home runs. He was named a freshman All-American and West Coast Conference Co-Freshman and Player of the Year.
But like many young hitters switching from aluminum to wood and facing pitching aces on the Cape, Bryant struggled mightily during the summer of 2011 playing for the Anglers, hitting .223 (29-130) with three homers and 16 RBI.
Chatham Anglers vice-president and director Bob Sherman held the role of general manager at the time Bryant played on Cape. He said he saw an article in Baseball America after Bryant won the National League Rookie of the Year in 2015 where Bryant said, "Yeah I struggled in the Cape (Cod) League."
"He was not the first or last player to struggle in the Cape League and move onto a great Major League career. It comes down to a player's ability to make the physical and mental adjustments as they move forward in their career," said Sherman.
"Kris was respectful, polite and friendly. He was very kind to the younger fans and batboys. He was very humble for a young man who had won all of those accolades. I never saw him complain but you could read the frustration on his face when he had an unsuccessful at-bat. You could see the tools, but they just didn't quite come together that summer," said Sherman.
As a sophomore in 2012, he was named First Team All-American by Baseball America. That summer, Bryant was selected to play for Team USA and tour across the country.
Putting the frosting on the cake, the 21-year-old Bryant led all college players during his junior season in 2013 with 31 home runs, after playing for Team USA during summer of 2012.
Bryant won the Dick Howser Trophy and Golden Spikes Award as the best amateur baseball player in 2013. He was also named a Louisville Slugger First Team All-American and College Baseball News National Player of the Year.
Prior to the 2015 season, he was ranked as number one prospect by Baseball America. The slugging third baseman's bonus was the highest for any player in that year's draft, surpassing the $6.35 million that No. 1 pick Mark Appel (Y-D, 2011) received from Houston. In addition to Appel and Bryant, other CCBL alumni included No. 6 pick Colin Moran (Bourne, 2011-12) and No. 32 pick Aaron Judge (Brewster, 2012).
Bryant began his pro career with the Boise Hawks of the Class A-Short Season Northwest League, batting .354 with four home runs. He was promoted to the Daytona Cubs of the Florida State League, hit .333 with five home runs and helped them win the championship. After the season, he played in Arizona Fall League and was named MVP of the AFL after hitting .364/.457/.727 with six home runs in 20 games.
Bryant started 2014 with Double-A Tennessee and in June won the 2013 Southern League Home Run Derby and participated in the All-Star game.
On June 18, 2014, Bryant was promoted to the Triple-A low Cubs after batting .355 with 22 home runs and 58 RBI in 68 games with Tennessee.
In a midseason top prospect update in 2014, Bryant ranked as the best prospect in baseball. Bryant was named USA Today Minor League Player of the Year, Baseball America Minor League Player of the Year and won the Joe Bauman Home Run Award. Baseball America named him the #1 prospect in 2015.
Bryant was invited to spring training by the Cubs in 2015 and in 40 at-bats, hit nine HRs, which led all major leaguers. He hit .425 with a .477 OBP and a 1.175 SLG.
But the Cubs sent Bryant down to Triple-A and people assumed service time rules played a factor. If Bryant played 12 days in minors, the Cubs would receive another year of control. In seven games with lowa, Bryant hit three HR and batted .321.
On April 17, 2015, Bryant was called up to the majors by the Cubs and made his debut against San Diego, going 0-4 with three strikeouts. The following day, Kris blooped an RBI hit, drew three walks and stole a base. Despite no homers in April, Bryant batted .318, a .455 OBP and earned 10 walks and RBIs.
Bryant hit his first MLB homer May 9th, 2015, a three-run shot off Milwaukee's Kyle Lohse. He finished May with .265 batting average, seven home runs, 22 RBl's, and 16 walks and was awarded NL Rookie of the Month.
Bryant's first grand slam came in a 17-0 win against Cleveland. In a July 4th game against the Marlins, Bryant hit a two-run homer and his second grand slam off Jarred Cosart. He was the second Cubs' rookie to hit two grand slams since Billy Williams in 1961.
Kris was selected as an injury replacement for the NL roster in the All-Star Game and participated in HR Derby.
On Sept. 6, Bryant hit a 495-foot home run, longest of the MLB season, tying Williams (1961) and Geovany Soto (2008), for the Cubs' single-season RBI record for rookies with 86. Bryant passed Williams for most HR by a Cubs rookie and batted .275 with 26 HR, 31 doubles, and 99 RBI.
The Cubs finished 97-65, clinching a Wild Card berth and eventually moving on all the way to the NLCS.
Bryant was named the Sporting News and Baseball America Rookie of the Year, making him first to win college, minor league, and rookie of the year awards in consecutive seasons.