News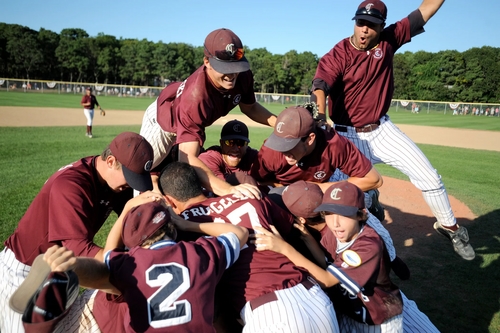 03/23/2023 10:49 AM
Article By: CCBL Public Relations Office
Third Times the Charm for Champion Kettleers
By: Ashley Crosby; feature from 2010 CCBL Postseason Magazine
For two straight years, Cotuit field manager Mike Roberts led his Kettleers to the Cape League Championship Series, only to watch them be swept aside by Harwich in 2008 and Bourne in 2009. But in Game 3 of this year's best-of-three playoff series, everything went the Kettleers' way as they beat the Yarmouth-Dennis Red Sox 6-0 at Red Wilson Field in front of 5,391 fans.
The victory brought home the Arnold Mycock Trophy, named after long-time league and Cotuit volunteer Arnold Mycock, who presented the award to the Kettleers after a nearly three-hour game. Cotuit last won the championship in 1999.
Jordan Leyland (UC Irvine) was named playoff MVP after hitting .461 with a home run and six RBI in seven games. Michael Yastrzemski (Vanderbilt), grandson of Red Sox Hall of Famer Carl Yastrzemski, had two hits, including a home run, while Joey Hainsfurther (Baylor) collected three hits.
Right-hander Nick Tropeano (Stony Brook) earned the win, pitching 6.2 hitless innings after taking over from injured starter Brady Rogers (Arizona State).
"When Rodgers' back stiffened there was no doubt in my mind that if Tropeano finished that ball game the Cotuit Kettleers would win," said Roberts. "He is Long Island tough."
Tropeano dominated the game as though he had something to prove after Roberts pulled him five innings into an earlier playoff game against the Wareham Gatemen. His combination two-seam fastball and sinker silenced the potent Red Sox offense.
"I think the blessing today was that Tropeano got so mad at me he probably did not like me at all," said Roberts. "He was really upset."
"I thought I had more in me," said Tropeano. "But if he hadn't pulled me then I wouldn't have been able to pitch in the championship, so no hard feelings towards that anymore. I feel great, just given the opportunity to go and pitch in the championship is definitely a great feeling."
Tropeano struck out seven and walked three. His performance culminated with a strikeout of pinch-hitter Matt Watson (Boston College), provoking the Kettleers to leap over the fence of the dugout and dog pile the 6-4 right-hander.
Yastrzemski, who struggled throughout the postseason, hit his solo home run in the fourth.
"I was just trying to put the barrel on the ball," he said. "I've been struggling and it felt good to finally score a run. We just got a good group of guys and everyone really put their full effort forward and no one left anything on the field."
"There's not a player in this league that had more pressure on him than Yastrzemski," said Roberts. "He is a wonderful young man and whoever's taught him to play the game, they taught him to play it the right way. He just will surprise you."
Deven Marrero (Arizona State) got the game started for Cotuit in the second inning, doubling to center field and advancing to third on Yastremski's bunt. Marrero scored the first run on a base hit by Hainsfurther.
Everything seemed to favor the Kettleers on this day. In the third inning, catcher James McCann (Arkansas) doubled and scored on Leyland's single. McCann, who was a pillar behind the plate this season, added a run on the board in the fourth with a sacrifice fly that scored Hainsfurther.
The Kettleers continued tacking on runs. Yastrzemski singled home John Hinson (Clemson) in the fifth, and Hinson doubled in Leyland in the sixth to cap the scoring.
"I'd say it's definitely one of the biggest team wins we've had," said Tropeano. "Even the guys on the bench, everyone contributed somehow, and I can't fully explain the feeling right now. It's just a good feeling."