News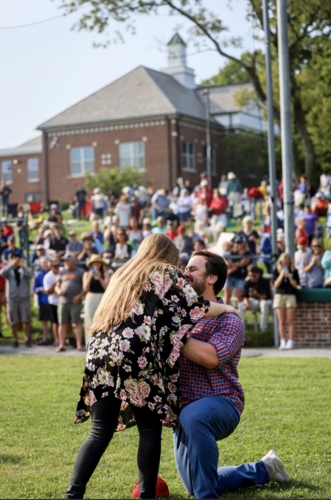 06/18/2023 9:02 AM
Article By: Kaileigh Grieb
As far as Natalia Bonfini was concerned, being asked to sing the national anthem this past Sunday for the Orleans Firebirds in their game against the Harwich Mariners wasn't anything too out of the ordinary.
Previously a contestant on American Idol, the singer was used to stepping into the spotlight. However, this was no ordinary performance.
With Natalia singing the final verse of the anthem, her family and closest friends sat in the stands eagerly watching Clay Hasinger sneak his way onto the field of Eldredge Park to ask her to marry him.

"It was a really great way to integrate what I love to do, which is music, and what he loves, which is sports," reflected Natalia.

Both Clay and Natalia met in Florida working as social workers and soon moved to Cape Cod, where Natalia was originally from. Being together for nearly five years, Natalia recalls patiently waiting for Clay to pop the big question.

Clay saw himself having three options; Proposing to Natalia at Mount Greylock in Western Massachusetts, proposing at Orleans' own Chocolate Sparrow, or at an Orleans Firebirds game. The decision was an obvious one to Clay.

"She always says that she didn't want a public proposal, but I thought that it would be fun to do it anyway. So, I emailed the Firebirds on Facebook and Bob O'Donnell (President for the Firebirds) messaged me in five minutes. He was like we're completely into this. So it just worked out like that and then that was like four months away until the Firebirds opening day. So, I pretty much had to keep her from breaking up with me for four months," laughed Clay.

And so, when it was finally opening day, with his mothers ring ready in hand, Clay got down on one knee and surprised Natalia after her performance.

"Looking back, everyone was acting really weird the day up. My whole family was there, which was weird. I was just singing the anthem and everyone was like, oh, my gosh, how are you feeling? But I was so nervous about singing the anthem that I was like, okay, everyone's being weird, I can't deal with this. I was really, definitely, truly surprised," said Natalia, when asked what her initial reaction was to the proposal.
Although the Firebirds ended their game with a 10-3 loss, the atmosphere of Eldredge Park left both Natalia and Clay with much to look forward to.

"It was a beautiful night. It had been raining the night before, so it was really nice that we had a great night. I'm from Eastham and I used to come to these games ever since I was a little kid. So there were a lot of local people there that were just truly there for the game that got to share and experience this really cool thing," stated Natalia.

With the Cape Cod Baseball League's 100th summer season already starting off on a positive note, there is much more to look forward to this coming season, both expected and unexpected.