News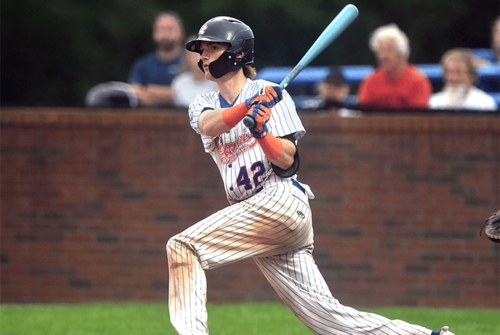 06/24/2023 11:09 AM
Article By: Kaileigh Grieb
For many in the Cape Cod Baseball League, seeing a familiar face return for another season is something to look forward to each summer.

Mike Sirota, a rising junior at Northeastern University, has been no stranger to the spotlight these past few years in the world of baseball. Playing in 37 games, Sirota accumulated a total of 141 at-bats this season with the Huskies.

"I learned a lot this year, especially just about my approach and about my swing. It turned out good with my stats. I didn't have a lot of statistical goals, just a lot of mental goals with staying focused at each at bat even if I don't get a hit in the first at bat. Just making sure I stay focused throughout the game," reflected Sirota on his collegiate season.

The centerfielder has made quite a lasting impression on the field, being ranked No. 5 Prospect Lives own top 100 college prospects for the 2024 MLB draft next year. But this was nothing new for Sirota.

Being drafted by the LA Dodgers fresh out of his high school career in 2021, the New York native decided to continue with his college commitment to Northeastern University.

"I was originally supposed to get picked higher, but I broke my hand before the draft, so things didn't turn out how I expected. But, it was good getting familiar with the whole process. It was good getting used to playing in front of scouts and cameras early on, so it's not as bad."

Playing with the Brewster Whitecaps, as well as the Hyannis Harbor Hawks, during part of their 2022 summer seasons, Sirota decided to make his return to Cape Cod in 2023. Only this season, as a full time Harbor Hawk.
Sirota had a total of 98 at bats last summer (24 with the Whitecaps and 62 with the Harbor Hawks), with a batting average of .276 between both teams.

"I think I'm definitely a lot physically stronger on the individual side. On the team side, I think there's a lot of talent here this year. I think we're going to be really successful," reflected Sirota. "I did a lot of learning last year from the older guys and I think you can learn a lot from different guys from different schools as well as coaches from all over the country. You can learn about your approach and you can learn a lot about yourself as a hitter."

Sirota sang much high praise to his teammates both new and old, even saying he still keeps in touch with his teammates from last summer with the CCBL.
Sirota and the Harbor Hawks had quite a comeback in their home game against the Cotuit Kettleers Wednesday night, tying the Kettleers 6 run lead in the bottom of the ninth causing the game to continue into an extra inning. The Hawks came out with a win against their rivaling team with the final score being 7-6.

"Where the stars of tomorrow shine tonight" is a saying that is frequent in the world of CCBL. The projected early draft pick in 2024, players like Sirota who have played on one of CCBL's ten fields help demonstrate what the league is all about.