News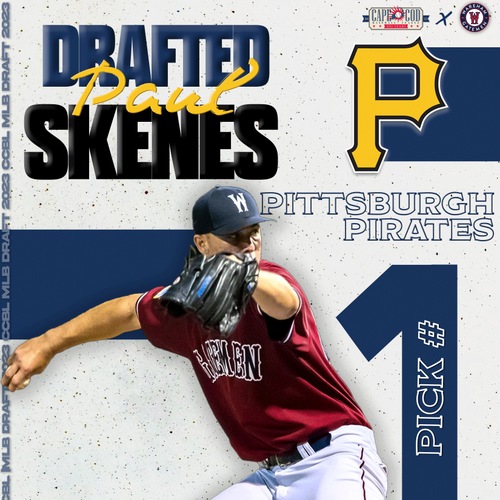 07/09/2023 5:19 PM
Article By: Andrew Fantucchio
The Cape Cod Baseball League is all about helping collegiate players achieve their ultimate goal of being drafted into the major leagues for the last 100 years. That tradition continued on Sunday evening when the Pittsburgh Pirates selected Paul Skenes out of LSU with the No. 1 pick in the 2023 MLB Draft, making him the fifth Cape Leaguer in the last six years to be taken first overall.
Back in 2021, Skenes appeared in five games for the Wareham Gatemen, pitching eight innings in relief. All though his time on the Cape was short-lived, the dominant right-hander made the most of his experience, punching out 12.4 batters per nine innings.
Now that he's on the road to Pittsburgh, Skenes is the second former Cape Leaguer the Pirates have recently taken first overall, as they did with Henry Davis two years ago.
After his Louisville Cardinals made a deep run at the College World Series in 2019, Davis immediately went from Omaha to the Cape. As a fixture in the heart of the Bourne Braves' lineup, Davis's most memorable moment that summer came when he smacked a two-run home run against the Hyannis Harbor Hawks on June 30.
Like Davis and Skenes in Pittsburgh, there's a pair of teammates in Detroit who were both taken first overall that spent time on Cape Cod.
Spencer Torkelson was a force on the Cape in 2019, slashing .385/.556/1.000 for the Chatham Anglers and was taken with the top selection by the Tigers in the next season's draft. Two years later, the first baseman made his MLB debut with the first overall pick in 2018, Casey Mize, watching from the Detroit dugout. In 2016, Mize spent the summer on the hill for Wareham.
Torkelson and Mize were two of three straight Cape League alumni to be taken with the No. 1 pick. In the years between them, the Baltimore Orioles picked former Falmouth Commodore Adley Rutschman. The backstop is now leading the O's to their best season in years and will eventually be joined by last year's top pick, Jackson Holliday.
Even though he was never afforded the chance to play on the Cape after being drafted out of high school, Jackson still has strong ties to the league, as his grandfather, Tom Holliday, is the manager in Chatham.
Many more former Cape Leaguers will realize their dream over the next two days as the 2023 MLB Draft continues.