News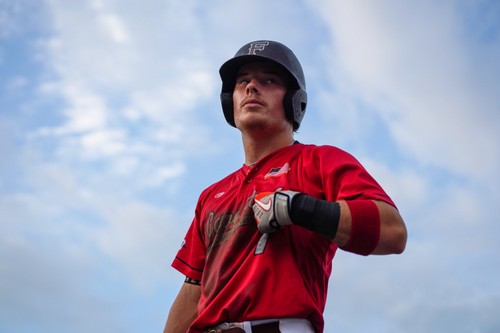 07/17/2023 1:00 PM
Article By: Daniel Curren
When Travis Bazzana scrolls the notes app on his phone, far enough down is a document he created while playing for Australia's 18U National team in 2019. It lists a series of outstanding Australian baseball players, both his age, and older. It is titled "2025 World Baseball Classic Lineup". This is Bazzana's vision for the lineup his home country will roll out for the (now 2026) World Baseball Classic, which will begin seven years after he created the note. Bazzana has himself batting leadoff and playing second base for team Australia on the world's biggest baseball stage. Some might think it is too early for him to be making these projections for himself, but based on the rest of his baseball career, he's just on time.
Growing up in Sydney, Australia's largest city, Bazzana started his time on the diamond by playing for a 6U tee ball team. He was three years old. Coming from a family of baseball players, the game immediately became a major part of his life.
"I don't really feel like myself without baseball at this point," said Bazzana, whose father and two older brothers also played baseball. "I really just took to it and I guess wanted to be a part of it myself from a super young age, and never stopped since then."
As he grew up and continued playing, Bazzana kept making major strides at early ages. In 2018, Bazzazna played for the Sydney Blue Sox of the Australian Baseball League, the premiere pro baseball league that his home country had to offer. He debuted for them at age 15. He was the youngest player to appear in the league that year. With the average position player being 25 years old, Bazzana was 10 years behind that.
Each team in the ABL has a "Development List" consisting of players that are no older than 23 years old, have Australian citizenship, and have yet to accumulate 130 plate appearances or 50 innings pitched in the league. Each team is allowed to have four of these players on their active roster, and they typically are cycled in and out throughout the season. This is meant to give the top talent in Australia a chance to gain professional experience at an early age and allow them to develop mentors. Bazzana was offered one of these roster spots, and he took advantage of it.
"It teaches you a lot just because they're a lot older than you and they've been around a lot more clubhouses," Bazzana said. "Just learning to be the best version of yourself and create good relationships with everyone around you."
Bazzana was a development player for three seasons from 2018-2020. During that time. He shared a clubhouse with several players that were double his age, and some that were as old as 42. For someone who wasn't old enough to get a driver's license at the time, he carried the same confidence to the ballpark every day.
"I wouldn't say going out there and competing was an issue in terms of intimidation," he said. "I was always confident stepping on the field."
At age five Bazzana knew his long term goal was to come to America and become a Major League Baseball player. I decided at 12-years-old that he would commit himself to eventually moving to America in pursuit of his dream. As that dream grew closer, Bazzana faced a life altering decision - how he would pursue it.
At age 16, he received his first professional offer from the Detroit Tigers. He could've signed it right there and began his career in Minor League Baseball, but he wanted something more. So, he bet on himself.
"I was just feeling like I wasn't valued as greatly as I felt I could be in this game," Bazzana said. "I was still developing my tools at 16 when I was kind of bringing that interest as a pro, and I felt like there was a lot more in the tank for me in that next 24-36 months."
Bazzana set his sights on the Pacific Coast and started his college career at Oregon State at age 18. He has since become one of the best players in all of college baseball. In his freshman year, he hit .306 with a .902 OPS in 63 games played. His performance earned him Collegiate Baseball Freshman All-American honors, All PAC-12 first team honors, and several other awards. Then, he changed his approach sophomore year and got even better,
"The fear of striking out freshman year, brought some weaker contact and some more strikeouts," he said. "Also, I was chasing in hitter's counts."
Freshman year, Bazzana always went up to the plate looking to put the ball in play. If there was a strike in his count, he would swing at the next good pitch thrown his way, because he didn't want a second strike. Additionally, he found himself getting too aggressive in 2-0 or 3-1 counts when he felt he needed an extra base hit. While ahead in counts, he chased too often at pitches outside the zone. The next year, he made drawing walks a higher priority.
"I'm really looking for pitches that I could do damage with more often and and being okay with taking the pitchers on the edge in that count and not being like not being afraid to swing less," he said. "That really helped me a lot this year."
These adjustments led to noticeable improvements on the field for Bazzana. Between his freshman and sophomore year, he cut his strikeout rate down from 20.5% down to 15.3% while also increasing his walk rate from 14.9% to 19.2%. His 59 walks on the season were tied with Oregon State teammate Garret Forrester for the most in the PAC-12. Everything else he did can only be described as pure domination.
In 61 games played throughout his sophomore season, Bazzana slashed .374/.500/.622 for a 1.122 OPS. He tallied 20 doubles, 11 home runs, 55 RBI, and 36 stolen bases, the most in the conference.
This analytical approach is the biggest key to Bazzana's success. He looks at his game at the angle of numbers and ways he can provide value.
"There's a lot of walks to be taken, so I can really bring value to my team if I can walk, steal second, and swing at better pitches so I can do more damage on the slug side of things." he said. "just being able to hit the ball in the barrel at a good launch. Often. I think I'm doing it at a really good clip right now and just continuing to walk more than I strike out."
Another contributor to Bazzana's dominance comes from a place where most college athletes would least expect it - his academics. Bazzana is a psychology student at Oregon State. As a proponent of baseball's mental side, Bazzana uses his studies as a way to learn how he can stay locked in in the batter's box.
"I've always had a real focus on my own research in terms of psychology and just getting a performance edge," Bazzana said. "It's mainly just about being able to go out there and be consistent and without a confident mind and a clear mind."
Thanks to this, Bazzana is able to go into every at-bat without dwelling on the previous one, or go out to second base while forgetting about an error he made in the last inning. His ability to press on with what is happening in the present keeps him mentally checked in at all times.
"I'm super passionate," he said, "about just learning as much as I can about things that can help me on the baseball field."
Bazzana's constant dedication to every moment on a baseball field sets him apart from the rest. Gavin Turley, his Oregon State and Falmouth teammate, is impressed with the way he's able to carry himself day in and day out.
"He's the only one out there every game warming up to full intent," Turley said. "If you're warming up full intent every game, you're gonna have full intent on the field every game. So I see that translates a lot."
Bazzana is currently listed as by Baseball America as the #2 prospect in the 2024 MLB Draft, so this upcoming season holds a lot of weight for his future. But before all that, he has one ultimate goal in mind.
"First and foremost, I want to win a national championship with Oregon State," he said. "That's really on the forefront of my mind. How can I help the growth of the younger guys and bring together a really quality team culture to where we go out and make a run in Omaha. That's step number one."
Bazzana came to Oregon State shortly after the team's most recent National Championship in 2018. That team boasted a roster with current MLB players such as Adley Rutschman, Steven Kwan, and Trevor Larnich, and Nick Madrigal. Bazzana has formed relationships with some of those guys, and he has made it his mission to be a part of the next great era of Beavers baseball.
"All those guys have left an impact on the program forever, and the fan base is so great," Bazzana said. "So I'm constantly in contact with the guys and really just trying to build the best team and best family I can with everyone around me and the coaches to go out and do that this year."
Bazzana will have one year left before he becomes draft eligible. While he is excited to make another run in Omaha and fulfill his childhood dreams of becoming an MLB player, he still hasn't forgotten where he came from or the talent he grew up competing with and against. Bazzana watched Australia's run in this year's World Baseball Classic and he's been waiting for four years for his turn.
"That's where I would love to be, and we've got a lot of talent," Bazzana said. "I've been dreaming of that and discussing that with my friends from Australia who have played in the US for a long time. I really hope that we can make a great run in that tournament and just spur growth in the game of baseball in Australia."