News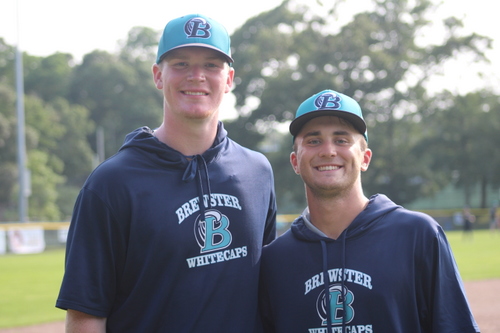 07/20/2023 4:04 PM
Article By: Daniel Curren
Jared Jones and Josh Pearson of the Brewster Whitecaps both got late starts to their summers on Cape Cod. They both debuted for the Whitecaps on July 6th against Harwich. The reason? They were in Omaha winning a National Championship.
The outfielder Pearson and the catcher Jones play for the LSU Tigers, the team that won the Men's College World Series against Florida on June, 26. It was an unforgettable experience for the two before starting their summer seasons.
"I still don't know if I came to the realization that we won a national championship." Jones said of the once-in-a-lifetime experience. "It's still kind of surreal, I guess. Maybe it'll settle in once we see our rings."
In front of a crowd of 30,000 people at Charles Schwab field, a swinging strike three on a breaking ball made the tens of thousands of LSU fans and the players on the field erupt in celebration as the 18-4 win secured LSU's first National title since 2009.
"I know we were winning by a lot, but not one point in the game did I think they were about to win a national championship until that last strike was thrown," Pearson said. "Running out there just seeing all the players in the dugout, we're running out there, it was awesome. And then being at the bottom of the dog pile, that was definitely a struggle, but it was definitely worth it."
Now that the dust has settled, the two are now focused on their summer seasons.
"The guys on the team welcomed us with open arms," Pearson said. " They've asked a lot of questions and stuff about the national championship."
After playing in Omaha, going straight to the Cape gives the two a much different atmosphere to compete in. It took time for them to mentally transition between the two stages.
"We were talking about 30,000 people there and 4 million watching on TV. It's definitely impossible to not think about," Pearson said. "Just being out here, everybody here is supporting you, no matter what team you're on. So it's awesome being here."
"Sometimes I still visualize myself in those big situations," Jones said. "But obviously here it's just a little more relaxed. So it allows me to work on some things and just kind of take a good deep breath and take it all in."
Pearson is hitting .310 with a .998 OPS in his first nine games in Brewster, while Jones was selected to compete in Saturday's home run hitting contest in Harwich.
Now they they have that experience under their belts, Pearson and Jones are eager to use their summers to improve their game, make more memories, and finish off what has been a season to remember for both of them.
"All these guys from different schools across the country, different divisions coming together in one dugout to play on the same team, that's what I was looking forward to most," Pearson said. "Being able to play with him and get together and form a team is awesome."
Pearson is entering his junior year at LSU next year, and Jones his sophomore year. Now that they know what it takes to win a National title, they have already began putting the work necessary to run it back next year.
"I kind of want to be a good role model for the younger guys," Pearson said. "I want to show all the new guys coming what it takes and all the hard work and hours at the field."
"Hopefully I'll have the same role I had this year of just stepping up when I need to and doing my role whenever coach sees fit," Jones said. "Just pushing the younger guys to make an impact and show up to the field with the right mind and right attitude every day."