News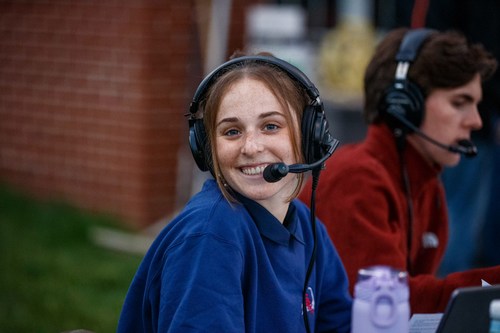 07/30/2023 1:05 PM
Article By: Julia Foster
"BALL FOUR UPSTAIRS THIS GAME IS OVER! JAKOB CHRISTIAN TAPS THE BAG AND Y-D COMPLETES THE COMEBACK," calls Perri Kitei from the press box of Red Wilson Field, as the Red Sox take down the Wareham Gatemen.
Kitei is more than another play-by-play broadcaster for the Yarmouth-Dennis Red Sox this summer. She's one of the few female play-by-play broadcasters in the Cape Cod Baseball League's history.
A rising junior at Northwestern, studying Journalism and Spanish, Kitei has shared a love and passion for sports all her life and knew she wanted to pursue a career in sports. From watching NFL Red Zone on Sundays to playing various sports like basketball, volleyball, and softball, to teaching the younger generation of athletes, Kitei has never known life without sports.
She first became interested in applying for the position through a friend from Northwestern and a sideline reporter for the Hyannis Harbor Hawks, Brea Lassek. After putting together a reel and sending it out to all the teams' Paul Izzo, President of the Red Sox, was immediately drawn to Kitei's enthusiastic spirit.
"She has an infectious personality that comes through on air. She loves what she's doing and I could tell listening to her that she would connect with our audience in a very real way," Izzo remarks.
Kitei has been grateful for how much the league has allowed her to grow and develop as a broadcaster.
"There's a lot of really special things about being here and I've really enjoyed it so far," Kitei said.
She understands the pressures that come with working in a male-dominated field
and credits her father with helping her get through the ups and downs. He uses a specific quote from the famous television series Ted Lasso where Ted says "Be a goldfish," to remind her to forget any past mistakes and keep moving forward.
Although Kitei isn't the first play-by-play broadcaster for the league, she has still made history by being the first female to call a Cape League game on the radio. This achievement comes during the 100th year anniversary of the Cape Cod Baseball League.
"People know what this league is like. Some people really care about it if they grew up in the area," says Kitei.
Sammy O'Brien was a Hyannis Harbor Hawks broadcasting intern for two summers in 2014 and 2015. She also called games during her time for the Hawks. She describes her time working for the league as unforgettable because of how much hands-on experience you gain and how you can pursue different kinds of jobs within your time in the league.
"For Perri specifically, I just want her to keep doing it like if she is loving play-by-play by all means, like just keep getting the reps in any way you can," O'Brien explained.
As Y-D approaches the end of their regular season, they are currently leading in the East Division and clinched a spot in the playoffs. As the Red Sox approach every game either home or away, you can always count on Perri Kitei to be on the call.
"She's really coming into her own in terms of filling the air with appropriate anecdotes and stories about players and statistics and all those things that make a good broadcaster," said Izzo. "I think she's well on her way to a successful career."