News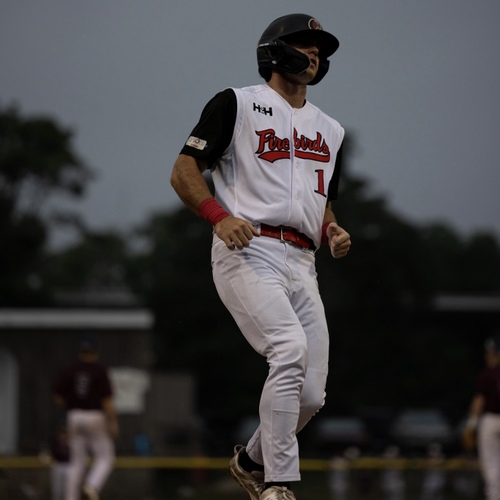 08/02/2023 12:13 PM
Article By: Kaileigh Grieb
"Like father like son" is a metaphor that many sons frequently hear.
To be known as your fathers son is a way to show a legacy that can be carried on for generations to come. But from the perspective of a son whose father has created a legacy within the realm of sports, this saying can touch a nerve. The constant comparison to do just as well if not better than their athletic father can drive a wedge between the player and the sport their families legacy is built off of.
But, not to Jake Casey.

Son of former MLB player, Sean Casey, Jake is one of these athletes who has taken the drive to create his own legacy within the game of baseball.

Sean Casey is no stranger to the Cape Cod Baseball League. The first baseman made his CCBL debut in the summer of 1994 with the Brewster Whitecaps, in that one summer he led the league in RBI (40) and was even named a Cape League All-Star. He'd go on to make his MLB debut with the Cleveland Indians in 1997. It only went up from there for Casey, who in 2003 was inducted into the Cape Cod Baseball League Hall of Fame.

Now, just 20 years later, during the league's 100-year anniversary, his son is here but not exactly to continue his fathers legacy.

"It kinda got repetitive. It was "Sean Casey's son", "Sean Casey's son this and that". But, as the years went on I accepted it and embraced it. Why would I want anything else? It's just how I was born. I can't change that and it's never going to be any different… I'm here now in the Cape and I'm trying to make my own legacy now," stated Jake.

Jake Casey may be his fathers son, but he is not his fathers "baseball player" as he described.

Although they share the name and the legacy, Jake has created his own for himself both on and off Cape Cod.
The outfielder from Kent State University is one of the many stars on the Orleans Firebirds roster this summer. The Pittsburgh native has made quite a reputation for himself while at Kent State. This season alone, the rising junior ended his season with 12 home runs, and 40 RBI's, landing his appearance in 50 games with the Golden Flashes (47 of those being starts).

It was in the fall when Casey got the call from the Cape Cod Baseball League to add his name to the Firebirds roster and it was an opportunity that he knew he couldn't pass up.

"I had a good summer last summer and I came back to school in the fall. I remember my coaches telling me, "You're going to the cape this summer." That was my goal. My one goal was to have a good year and go to the Cape before the year got started. I remember calling my dad and he was ecstatic… If you go to the Cape, you know you're on the right path."

And that path is one that Jake's own father had paved for his son. But as said before, the legacy isn't one being exactly followed by Jake. With his father being a Brewster Whitecaps legend, Jake is taking his Cape League debut into his own hands.

"When I come to new teams, I'm never like "my dads Sean Casey." They all just find out somehow. I think it's cool for them to actually know me as a player and not just Sean Casey's son, they know me as Jake Casey. I have a certain skill set unlike my dad, I always try to do my own thing," said Casey.

With his father being named the New York Yankees new hitting coach as of June, Jake has made a point to be grateful for the opportunities that he has been given rather than resent the family name that he's been fortunate enough to be given.

"It's been good to have him by my side all the time as not only my coach but as my dad. I look at it as a good thing, I don't try to make it any bigger than it is, but it's always good to have him as my coach and my mentor."

To be seen as your fathers son is one thing, but to make a legacy of your own while complimenting your fathers legacy is another.

The legacy of Jake's father is one that he has learned to embrace rather than resent. The Casey's are a name to be reckoned with within the Cape League, but for different reasons. Although they both are notable names within the realm of baseball, both Jake and his father are different players who just happened to strive for similar goals.