News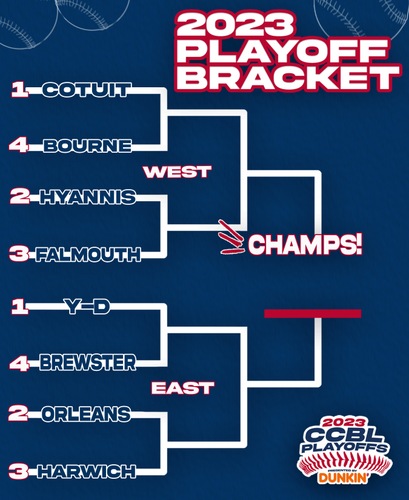 08/04/2023 8:05 AM
Article By: Daniel Curren
The 2023 Cape Cod Baseball League playoffs are set to begin on Friday afternoon. With four exciting series to watch, we have you covered on what to watch for throughout each of the next three days.
#1 Cotuit Kettleers vs #4 Bourne Braves
Game 1: Bourne at Cotuit 4:00 p.m. - Friday, Aug. 4th
Game 2: Cotuit at Bourne 6:00 p.m. - Saturday, Aug. 5th
Game 3 (If Nec): Bourne at Cotuit 4:00 p.m. - Sunday, Aug. 6th
Season Series: 3-3
How Cotuit Got Here:
The Kettleers enter the playoffs after having one of the most dynamic rosters on the Cape throughout the regular season. On offense, they finished the year with the league's highest slugging percentage (.409) and OPS (.777). They are led at the plate by Cole Mathis (Charleston) who leads the Cape in SLG (.667). His 11 home runs are the second most in the league. A breakout bat that has emerged recently for Cotuit has been Trevor Haskins (Stanford). In 49 plate appearances across 11 games played, Haskins has slashed .364/.408/.659 for a 1.067 OPS. He has tallied four doubles and three home runs during this short span, and could be an under-the-radar hitter to watch for in Cotuit. On the mound, the Kettleers are led by Camron Hill (Georgia Tech), who has been one of the most dominant pitchers on the Cape this year. Hill leads the Cape in ERA (1.09) and is second in strikeouts (45). Another strong arm for the Kettleers in Cullen McKay (Virginia). McKay has posted a 2.53 ERA in 10.2 innings pitched. Opponents are hitting .206 against McKay this summer and slugging just .200.
How Bourne Got Here:
The defending champs of the Cape League will look to run it back with multiple returning members from last year's team. Bryce Eblin (Alabama) and Bryce Cunningham (UConn) headline the list of Bourne players seeking back-to-back titles. The Braves finished the season with the league's highest on-base percentage (.377) and the highest strikeout to walk ratio for pitchers (2.33). Bourne is led at the plate by Derek Bender (Coastal Carolina). Bender slashed .374/.446/.557 for a 1.003 OPS in 130 plate appearances. Eblin has also enjoyed a solid sophomore season on the Cape. The middle infielder slashed .367/.429/.392/.821 throughout the season. His .429 OBP ranked 6th highest on the Cape. For pitching, the Braves have been led by Triston Smith (Clemson). In 23 innings pitched for the Braves this summer, Smith has a 1.56 ERA and 33 strikeouts. They have also gotten a lot of production out of Brady Afthim (UConn). Afthim posted a 1.80 ERA in 15 innings pitched with 15 strikeouts.
#2 Hyannis Harbor Hawks vs #3 Falmouth Commodores
Game 1: Falmouth at Hyannis 6:00 p.m. - Friday, Aug. 4th
Game 2: Hyannis at Falmouth 6:00 p.m. - Saturday, Aug. 5th
Game 3 (If Nec): Falmouth at Hyannis 6:00 p.m. - Sunday, Aug 6th.
Season Series: 4-2 Hyannis
How Hyannis Got Here:
The Harbor Hawks finished the regular seasons as perhaps the most balanced team in the league. Hyannis posted the second highest OPS (.763) and fifth lowest ERA (4.34) throughout the summer. Cam Smith (Florida State) has been their best hitter, and one of the most consistent bats the Cape has seen all summer. Smith leads the Cape League in hits (58) and was the only player in the league to appear in all 44 regular season games. He also slashed .347/.406/.575 for a .981 OPS across 187 plate appearances. Another strong offensive piece for Hyannis has been Zach Yorke (Grand Canyon). In 87 plate appearances across 20 games, Yorke has slashed .338/.425/.486 for a .911 OPS. He has tallied three home runs and 19 RBI. On the mound, the Harbor Hawks will likely lean on Ethan Lanthier (St Cloud State) to get big outs. Lanthier has logged 18 innings for Hyannis to the tune of a 3.00 ERA and 25 strikeouts. Another name to watch for is Cade Obermueller (Iowa). Obermueller has thrown 17 innings and posted a 2.11 ERA and an impressive 30 strikeouts in that span.
How Falmouth Got Here:
In legendary manager Jeff Trundy's 25th season, the Commodores were one of the hottest teams on the Cape down the stretch. After starting the season 3-10-2, Falmouth went 21-8 from then on. Offensively, they are led by Australia's own Travis Bazzana (Oregon State). In 158 plate appearances for Falmouth, Bazzana slashed .375/.456/.581 for a 1.037 OPS. His average, on-base, and slugging all ranked in the top five on the Cape, and his AVG and OBP ranked first. Tyler MacGregor (Northeastern) has also made significant contributions at the plate. Across 130 plate appearances, MacGregor slashed .318/.423/.430 for a .853 OPS. As for pitchers, Falmouth native Joey Ryan (Boston College) has established himself as one of the most efficient pitchers on the Cape. In 10 innings pitched, Ryan did not allow an earned run throughout the season. He also struck out 11 and walked only two batters in those 10 innings. Garrett Coe (UConn), another New England native, has also excelled on the mound. Coe has a 0.91 ERA over 19.2 innings pitched with 18 strikeouts.
#1 Y-D Red Sox vs #4 Brewster Whitecaps
Game 1: Brewster at Y-D 4:00 p.m. - Friday, Aug. 4th
Game 2: Y-D at Brewster 4:00 p.m. - Saturday, Aug. 5th
Game # (If Nec): Brewster at Y-D 4:00 p.m. - Sunday, Aug. 6th
Season Series: 5-1 Y-D
How Y-D Got Here:
The Red Sox won their last game of the season to reclaim the East Division on the season's final day. They finished the season with the lowest ERA on the Cape (3.93). Offensively, Y-D is led by Hunter Hines (Mississippi State) Hines led the Cape in home runs (13) and RBI (45) throughout the summer. Hines slashed .265/.360/.565 for a .925 OPS in 172 plate appearances. Y-D will also rely on Braden Montgomery (Stanford) at the plate. In 63 plate appearances, Montgomery slashed .340/.429/.472 for a .901 OPS. He has tallied one home run and 12 RBI across 13 games played. For pitching, Smith Pinson (Kennesaw State) will be a guy Y-D looks to. In 37 innings pitched, Smith posted a 2.67 ERA with 37 strikeouts. Another name to watch is Landon Beidelschies (Ohio State). Beidelschies 33 strikeouts in 23.2 innings pitched gives him an impressive 12.5 strikeouts per nine innings. That, combined with his 3.42 ERA makes him a solid option for the Red Sox.
How Brewster Got Here:
After winning the Eastern Division and losing in the Championship round in 2022, the Whitecaps will look to finish business in 2023. Brewster finished the regular season with the second highest OBP in the East (.364). On offense, Brewster is led by home run hitting contest champion James Tibbs (Florida State). In 164 plate appearances, Tibbs slashed .303/.390/.472 for a .862 OPS. His six home runs were tied for third most on the Cape. Another Brewster hitter to watch for is Davis Diaz (Vanderbilt). Diaz slashed .284/.417/.422 for a .839 OPS in 127 plate appearances. Pitchers to watch for include Patrick Forbes (Louisville) and Fisher Jameson (Florida). Forbes logged 17.1 innings and posted a 2.59 ERA with 20 strikeouts. Jameson also threw 17.1 innings, and he finished with a 3.11 ERA and 21 strikeouts.
#2 Orleans Firebirds vs #3 Harwich Mariners
Game 1: Harwich at Orleans 6:30 p.m. - Friday, Aug. 4th
Game 2: Orleans at Harwich 5:30 p.m. - Saturday Aug. 5th
Game 3 (If Nec): Harwich at Orleans 6:30 p.m. - Sunday Aug. 6th
Season Series: 4-2 Harwich
How Orleans Got Here:
The Firebirds went on a run towards the end of the season and competed for the East Division until the very end. They finished the season with the highest OPS in the East (.751) and the second lowest ERA on the Cape (4.21). Offensively, they have been led by Jo Oyama (UC Irvine) and Matt Halbach (UC San Diego). Oyama and Halbach were teammates last summer in the West Coast League, and they are back together to bring a championship to Orleans. Oyama slashed .360/.456/.613 for a 1.069 OPS in 182 plate appearances, and his 6 triples lead the Cape. Halbach slashed .364/.455/.512 for a .967 OPS in 144 plate appearances. On the mound, the Firebirds are led by Sean Matson (Harvard). Matson has yet to give up an earned run in 21.2 innings pitched, and he has struck out 11. Opponents are hitting .151 against Matson and slugging just .178. They will also expect a lot out of Jonathan Gonzalez (Stetson). Gonzalez posted a 2.53 ERA in 21.1 innings throughout the summer.

How Harwich Got Here:
Harwich has held their own this year and have been solid on the pitching side. Their 4.37 team ERA finished 3rd in the East. At the plate, they have been led by Devin Obee (Duke). In 144 plate appearances across 35 games, Obee slashed .250/.371/.425/ for a .796 OPS. Another bat for the Mariners is Kevin Keister (Maryland). Despite only playing seven games, Keister slashed .407/.484/.593 for a 1.077 OPS in 32 plate appearances. He could be an interesting hitter to watch for come playoff time. Some pitchers Harwich will be looking towards include Sean Hard (Boston College) and Tom Chimielewski (Princeton). Hard posted a 2.34 ERA with 31 strikeouts in 23 innings pitched. Chimielewski tossed 28 innings to the tune of a 3.21 ERA and 23 strikeouts.