News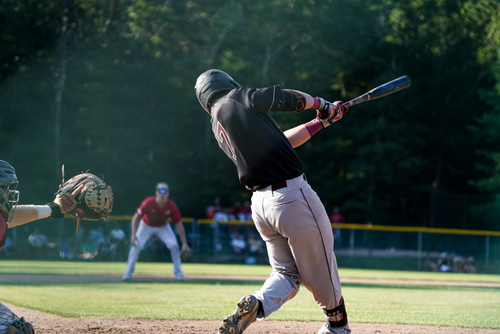 08/28/2023 4:54 PM
Article By: Brian Butler
As the Bourne Braves are celebrating their second straight championship, many are reminiscing on what was another incredible summer for the Cape Cod Baseball League. Since some of the best collegiate baseball players in the country come to the Cape each summer, the level of talent on display is always second-to-none. Now that the summer has come and gone, let's look at some of the players who demonstrated outstanding tools throughout the season. All data courtesy of Trackman Baseball!

Power: Hunter Hines, 1B, Y-D/Mississippi State
Hunter (Homer) Hines ran away with the home run title this summer, hitting 13 long balls with only one other player (Cole Mathis-11) hitting more than six. Hines demonstrated his incredible power on many occasions, including the Home Run Hitting Contest, where he hit the most of any participant in the first round. The Bulldog first baseman took advantage of the strong fly ball environment at Red Wilson Field, which, when paired with his immense raw power, provided a show for all fans to see. Hines's homers averaged an exit velocity of 101.1 MPH with a 29.4 degree launch angle. He also hit six over 400 feet, topping out at 424, with an average distance of 390.4 feet.

Hit: Travis Bazzana, 2B/CF, Falmouth/Oregon State
Travis Bazzana put together an incredible summer in Falmouth, coming out on top in the race for the batting title. Bazzana ultimately slashed .375/.456/.581 in the summer, demonstrating an incredible ability to drive the ball to all parts of the park. The Australian standout routinely smoked the ball to every field throughout the game, showcasing true gap-to-gap power and a penchant for getting the bat to the ball. Bazzana also has a very compact swing and a strong ability to get to any pitch thrown to him, showcasing why he is likely to be selected very early in next summer's draft. He also limits swing-and-miss, having struck out just 18 times in 136 at-bats this summer.

Speed: Jonathan Vastine, INF, Bourne/Vanderbilt
Jonathan Vastine puts fear in the hearts of catchers and pitchers alike every time he gets on base. Vastine swiped 14 bases in 16 chances this summer, finishing the summer tied for fourth on the Cape. The Vanderbilt product routinely drew several pickoff throws every time he got on base, demonstrating the nerves of the battery every time he reached. Vastine also used his speed on defense, demonstrating a strong range at shortstop and ability to keep balls in the infield that others may not necessarily reach.

Arm: Jaime Ferrer, RF, Brewster/Florida State
Jaime Ferrer's cannon of a right arm kept a lot of baserunners honest this summer in Brewster. The Florida State right fielder recorded four outfield assists in just 21 games this summer, with that total slowly tailing off over time as runners learned not to take a chance on his arm. Ferrer has an incredibly strong arm, routinely putting throws on a line from deep in the right field corner to his second baseman, and demonstrating incredible accuracy as well.

Defense: Sam Petersen, OF, Bourne/Iowa
Sam Petersen flew all over the place in the Doran Park outfield this past summer, filling up the highlight reel as he went. Petersen has a very strong glove and gets great reads on fly balls, and uses his plus speed to cover a lot of ground. Petersen usually occupied left field for the Braves this summer, making sure very few balls found empty space with his exceptional ability to play the angles and cut balls off quickly, if not just reaching them before they hit the ground.