News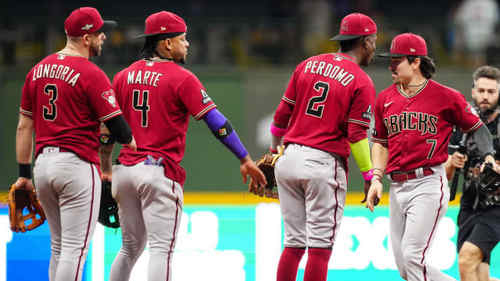 10/04/2023 12:54 AM
Article By: CCBL Public Relations Office
Kevin Ginkel - Arizona Diamondbacks, Cotuit '15
Kevin Ginkel (Cotuit '15) entered last night's Game 1 Wild Card game with the Diamondbacks leading the Brewers 4-3 in the bottom of the seventh inning. Ginkel recorded six outs in six batters, including four strikeouts, to hold the Diamondbacks lead heading into the ninth.
The Diamondbacks were able to close it out, taking a 1-0 series lead in the best-of-three Wild Card Series.
Ginkel has been a key piece to the Diamondbacks bullpen all season. He finished the regular season with a 9-1 record, 2.48 ERA and 70 strikeouts over 65.1 innings.
Ginkel made 12 relief appearances for the Cotuit Kettleers during the 2015 summer, finishing with a 6.75 ERA and 16 strikeouts over 12 innings.
Zac Gallen (Chatham '14/'15) will start Game 2 for the Diamondbacks tomorrow, looking to close out the series and secure a home playoff game in Arizona for the first time since 2017.