News
07/02/2004 11:05 AM
Article By:
2 July 2004
THIS WEEK IN THE CAPE LEAGUE
Bob Wood is a Link to Baseball's Distant Past
"Don't worry, I will forgive you."
That's what Bob Wood said after meeting me and finding out that I was from the south. I had to redeem myself, so we began talking about baseball.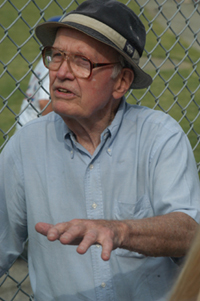 Bob Wood, the son of the great Smokey Joe Wood, discusses his father's history with John Garner at Hyannis' opening game Thursday the 17, against the Yarmouth- Dennis Red Sox.
Gardner / CCBL for SportsPix 2004
The late Jim "Catfish" Hunter was from my home town and Trot Nixon is from North Carolina. I was on unfair playing grounds. My list was so insignificant compared to the names Mr. Wood mentioned in the conversation we shared before he threw out the first pitch to start off the 2004 season for the Hyannis Mets and YD Red Sox.
Before first pitch ceremonies on June 17 at Hyannis' McKeon Field a couple of us looked through books and pictures of Smoky Joe Wood. It is amazing the numbers, stats, and amount of other information that Bob Wood could remember just from looking at pictures.
Then we got to it. The day in 1912 when Smokey Joe Wood pitched a complete game in front of the largest crowd (at that time) ever at Fenway Park. Bob Wood took one look at the picture, and knew exactly what day it was, he exclaimed "September 6th 1912." That's the day of the Joe Wood-Walter Johnson showdown at Fenway Park, one of the "100 Greatest Baseball Games of the 20th Century" as ranked by Joseph Dittmar.
In 1912, Smokey Joe Wood was 34-5 and produced the greatest mound season in Red Sox history. After the classic 1-0 win by the elder Wood, the flame-throwing right-hander known as the "Big Train", who produced 417 career wins (2nd all-time) and 110 shutouts (1st all-time), was asked if he threw harder than his mound adversary.
"Nobody on this earth throws harder than Smokey Joe Wood," said Johnson.
While we talked about his father's near-perfect season, game time approached and Bob Wood became anxious for the first pitch. He jokingly asked who would throw with him because he hadn't picked up a ball in so long. After practicing on the side line with league PR and broadcasting director John Garner, Bob Wood opened up the season for the Hyannis Mets with a beautiful strike.
Wood looked just like a pro throwing out the first pitch. Later sitting by my side Bob Wood said: "How did I look?" Too bad I never saw his father pitch or I would have answered like his dad.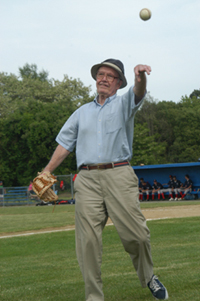 Eighty-five year old Bob Wood practices before throwing out the first pitch at Hyannis' opening game against the Yarmouth- Dennis Red Sox.
Gardner / CCBL for SportsPix 2004
I realized Mr. Wood could be the most interesting man I have ever met. This is someone who has taken a picture with Lou Gering while a bat boy at Yale and still has the picture. This is a man who could tell you almost any statistic on any baseball player, is a son to Smokey Joe Wood, and a retired sports memorabilia salesman, who has seen some of the best baseball and many of the games greatest players of its time, not to mention that the great Tris Speaker was his godfather.
This was my first interview ever with someone so important and all he could say was "Just relax whatever you wanna ask me, ask me, if I can answer it I will, if I can't I won't." And then he laughed.
Bob Wood told me about growing up in Shohola Pennsylvania, and then New Haven Connecticut. We talked about his father and how he pitched for the Red Sox from 1908-1916 and then after an injury how he made himself into an outfielder and played for the Cleveland Indians until 1922.
He and Babe Ruth are the only two players in major league history to pitch a complete game victory and have the game-winning hit as a starting outfielder in a World Series Game. The elder Wood and his best friend Speaker, the team's player-manager and still considered with Willie Mays and Joe DiMaggio the greatest center fielders ever, led the Cleveland Indians to the 1920 World Series Championship.
But one of his greatest memories was in 1941. Bob and his brother Steve were playing for Colgate College while his brother Joe played for Yale and his father Joe coached for Yale. "In '41 we came down to play the Yale team, the Yale team where my father coached and my brother Joe who was the captain of the team and on Colgate's team was Steve who was a pitcher and I played first base. They beat us, it was a good game for seven innings and then they forged ahead."
Bob's two brothers, Joe and Steve were drafted by the Red Sox and both made appearances in Scranton and Louisville. Bob also played semi-pro ball on town teams in 1954. He made sure to tell me that, "we were never forced into playing, and that it was just natural and it wasn't that we were Joe Wood's sons, it was that we were able to play."
It must have been so fascinating to have a father who not only played pro baseball, but also coached at a collegiate level. I asked Bob what it was like having
Smokey Joe as a father. "I didn't think too much of it. He always respected us and we always respected him."
Smokey Joe Wood received his nickname from Paul Shannon who at the time was watching Wood pitch and commented by saying, "That boy can really throw smoke." Since then the name has just been a part of Joe Wood. Bob Wood told me that his father "always thought his nickname was kind of blowing his horn a little bit," and to this day Bob Wood only knows of three photographs that his father signed "Smokey Joe Wood," two of which he has, and that's because they were special requests by his family. "It was always 'Joe Wood.'"
At the game he told me that "it felt good," to throw out the first pitch "I used to do a little pitching too, but I'm 85 and I haven't thrown a ball in a long time. It was a lot of fun." While Bob Wood is 85 you may never know it. He is living the life that every baseball fan dreams about. Having met some of the games most vital players, with memories of a father who played in the majors, two brothers who also played for the Red Sox, and talent that got him some semi-pro history of his own. Bob Wood is a walking legend, a walking legend that's a Red Sox fan at that: "Am I a Red Sox fan, what a question?" –Erica Gregory, CCBL Intern 2004, [email protected]
John Garner, Jr.
CCBL Director of Public Relations & Broadcasting
(508) 790-0394 [email protected]